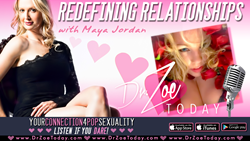 New York, NY (PRWEB) July 24, 2015
Never backing down from discussing the taboo, it should come as no surprise that among many other juicy topics discussed on this week's Dr. Zoe Today show, the Ashley Madison hack was one of them.
Dr. Zoe's featured guest was Maya Jordan, host of Playboy radio show "Head Games" and a writer on sexual topics for outlets like The Guardian, Bustle, AskMen, Pop Sugar, Top10AdultDatingSites and many others.
Dr. Zoe Shuster has been "The Confidential Coach" to high profile leaders and is known for encouraging spicing up monogamous relationships while Maya is open publicly about being a swinger, but both are fully supportive in the way others choose to live their lives. Having different views while having a few common threads and similar occupations made for a show with a unique take on the controversial hack.
On July 15, 2015, hackers stole all of Ashley Madison's data of their 37 million+ customers to include names, addresses, sexual fantasies and credit card information, and threatened to post all the data online if Ashley Madison was not permanently closed. As of July 22, some of the data was released with anticipation of more to come (as outlined here by CBS News published on July 22, 2015).
Jordan, having had the opportunity of interviewing Ashley Madison's CEO Noel Biderman, said that, "he was a neat guy."
The topic bridged into a discussion on marriage and redefining relationships. "Really, the bigger thing to look at is this speaks volumes about the modern institution of marriage and how important it is for us to redefine relationships. Why enter into an institution of marriage, and what that all stands for, and the traditions of it if you're not going to be in it anyway?" says Dr. Zoe during the show.
The show was, as usual, chock-full of real, raw, relevant information on love, sex and relationships. To listen to the full interview, tap on the "Listen" tab in the free "Dr. Zoe Today" app available on the App Store or Google Play or visit their website at http://DrZoeToday.com