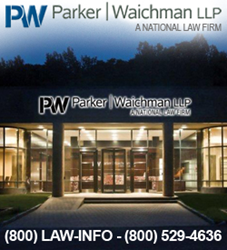 The fact that there are individuals suffering from 9/11-related illnesses in every state reflects the widespread need for Zadroga benefits
Port Washington, NY (PRWEB) July 28, 2015
Parker Waichman, a national law firm that has spent many years fighting to ensure that the heroes and victims of the 9/11 terrorist attacks are never forgotten, comments on a The New York Daily News report dated July 20, 2015 that points out that individuals suffering from 9/11-related illnesses reside in every state. Although the September 11th Victims Compensation Fund (VCF)—which provides compensation to responders and survivors who became ill or injured due to 9/11—aids the most people in New York State (over 4,000), numerous responders came to help from other states and some responders moved out of New York when they retired. "When it happened, we saw cops and firefighters helping out from all over," retired NYPD Detective Frank DeMasi, who now lives in North Carolina and suffers from damage to the lining of his esophagus, told The Daily News. September 11th Victims Compensation Board member Sheila Birnbaum also told The Daily News, "We knew this was a national issue right from the beginning."
Parker Waichman comments that, renewing the Zadroga Act, which established the World Trade Center (WTC) Health Program and the VCF, is necessary in helping individuals across the country suffering from 9/11-related illnesses. "The fact that there are individuals suffering from 9/11-related illnesses in every state reflects the widespread need for Zadroga benefits," said Matthew J. McCauley, Senior Litigation Counsel at Parker Waichman. "Renewing the Zadroga Act will help save lives."
Parker Waichman actively worked toward the 2010 passage of the Zadroga Act, including taking part in lobbying efforts and trips to the nation's capital, often along with the firm's 9/11 responder and survivor clients.
Also, according to Parker Waichman, many 9/11-related illnesses may take years to manifest. "As time goes on, we are seeing more responders develop illnesses related to toxic dust exposure during 9/11," said Gary Falkowitz, Managing Attorney at Parker Waichman LLP. "We need to extend the Zadroga deadline in order to give these individuals time to access the benefits they need and deserve."
The firm continues to support the Zadroga Act and remains dedicated to fighting for the rights of responders and survivors. Most recently, Parker Waichman was involved in the "Take Action" tool that allows responders, survivors, and advocates the ability to review their Congresspersons' activities concerning the upcoming expiration of the James Zadroga Act. The firm assisted with the research on, and creation of, the Take Action Tool, which may be accessed at: Renew 911 Health Organization's website.
Parker Waichman continues to fight alongside Ground Zero first responders, survivors, and their advocates, to help ensure extension of the Zadroga Act and vows to continue its efforts to safeguard these heroes and ensure that they receive all of the Zadroga Act compensation they deserve. If you or a loved one are eligible for compensation under the Zadroga Act, and would like assistance with your claim, or if you or a loved one have been injured as a result of toxic exposure, please visit Parker Waichman's website or call 1-800-LAW-INFO (1-800-529-4636).