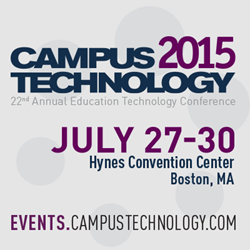 CT attendees will experience the latest technology out on the market today, as well as learn about the future of higher education technology from the industry's leaders.
Boston, MA (PRWEB) July 27, 2015
The 22nd annual Campus Technology (CT) summer conference opens today at the Hynes Convention Center in Boston. Higher education professionals are gathering for the four-day conference featuring industry thought-leaders, cutting-edge technologies and innovative programs designed to give attendees the tools to tackle campus challenges, needs and goals.
CT 2015 will include breakout sessions, workshops, networking sessions, keynotes and an exhibit hall with the latest technology. This year, CT also will offer aspire sessions: 20-minute hands-on sessions designed to help attendees learn a new skill to take back to their college or university to use right away. Also, CT will provide two new focus areas: "CIO: Next Generation" and "Higher Ed IT in the Digital Age."
"Higher education institutions require professionals to know about the latest technology and IT strategies because that's what keeps campuses secure and cutting-edge," said Mike Eason, CT General Manager. "CT brings together campus administrators and IT executives and professionals who want to gain that insight."
The CT exhibit hall allows attendees to see, try and purchase the latest innovations from more than 150 companies, including industry powerhouses like Insight Systems Exchange, Mediasite by Sonic Foundry, Laserfiche, CDW-Government, Bluehost, Pro AV Systems, MakerBot, Epson and GovConnection.
"CT attendees will experience the latest technology out on the market today, as well as learn about the future of higher education technology from the industry's leaders," said Eason.
The luncheon keynote for CT will be edX Vice President Beth Porter, who will discuss the edX evolution and impact. The opening keynote speaker will be Southern New Hampshire University President Paul LeBlanc, who will offer a broad look at the dramatic changes in higher education and outline an approach to innovation and institutional reinvention. The Wednesday keynote speakers include Xavier University CIO Shawn Nason and MakerBot Vice President of Professional Services Jordan Brehove, who will explore the emergent role of 3D printing in higher education. CT's closing keynote speaker will be cybersecurity expert and California State University Chief Information Security Officer William Perry, who will examine the history of cyber-attacks, how they occur and what IT leaders can do to manage incidents and decrease their risk to organizations.
CT is co-located with the Association for Authentic, Experiential and Evidence-Based Learning (AAEEBL) for the 2015 conference, "Moving Beyond 'One-Size-Fits-All.'" This ePortfolio conference will target three strategic and transformative approaches: evidence-based learning, personalized learning and holistic outcomes assessment. Participants are eligible to attend sessions at both conferences to maximize their learning.
For more information regarding conference keynote speakers, registration packages, sessions, speakers, workshops and general conference details, visit campustechnology.com/summer15. Join the conversation by following the conference on Twitter (@CT_Events) and using and searching the hashtag #CampusTech. For even more CT updates, "like" Campus Technology Events on Facebook and join the Campus Technology Events LinkedIn group. View CT 2014 session videos on the Campus Technology Events YouTube channel.
About Campus Technology
The Campus Technology annual summer conference is the nation's premier higher education technology conference, where leading innovators and experts in technology for higher education guide faculty, instructional designers, eLearning program managers, information technologists and campus administrators into the new realm of teaching and learning using the latest in applications, social software and immersive platforms. Each conference provides a collegial environment in which attendees can exchange experiences and network with other attendees, as well as discover the latest in technology products, services and applications in all platforms, software, presentation devices, quantitative tools and technologies.
About LRP Conferences, LLC
LRP Conferences, LLC, an affiliate of LRP Publications, produces more than a dozen professional conferences and trade shows annually, including: Campus Technology Conference, Campus Technology Forum, Ergonomics Conference & ErgoExpo, Future of Education Technology Conference (FETC), HR in Hospitality Conference, HR Technology® Conference & Exposition and National Workers' Compensation and Disability Conference® & Expo.
About LRP Publications
LRP Publications, headquartered in Palm Beach Gardens, Florida, is known as educators' most trusted source for practical and legal education administration guidance and produces newsletters (Education Daily®), books, pamphlets, DVDs, audio conferences, eLearning courses, online services (Title1admin®.com, EducationDaily.com® and Special Ed Connection®.com) and training tools to help educators implement sound programs and avoid compliance errors related to Title I, autism, discipline and more. LRP also produces professional education conferences including: National Institute on Legal Issues of Educating Individuals with Disabilities® and Special Education School Attorneys Conference. For a complete list of LRP products, eCourses and conferences, please visit http://www.lrp.com.