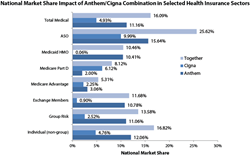 Washington, DC (PRWEB) July 27, 2015
Anthem, Inc.'s long-anticipated acquisition of Cigna Corp. would result in a combined entity that surpasses UnitedHealthcare to become the largest health insurance entity nationally, with 16% of the primary health insurance market, by membership, according to analysis conducted by Atlantic Information Services, Inc. (AIS). In the deal formally announced last week, Anthem intends to acquire its former rival, netting it a 16.09% market share of total U.S. medical membership. AIS enrollment figures are based on medical membership only, and do not count pharmacy, dental or behavioral health operations owned by either company.
The combo would take the lead from UnitedHealthcare in the risk-based commercial market, with more than 13% of membership, AIS found, and corner the self-funded market with almost 26% share of Administrative Services Only (ASO) plan lives covered by health insurers (not including ASO plan lives covered by third-party administrators that do not also have full-risk operations).
The biggest advantage to Anthem would come in the commercial risk market in states where both insurers are currently operating on exchanges, according to AIS — California, Colorado, Connecticut, Georgia and Missouri. The combined entity would take over the number one spot in Colorado, over Kaiser, as measured by enrollment. In Connecticut, the number of insurers on the public exchange would narrow from seven to six, and in Missouri the number narrows from six to five players listing on public exchanges.
One issue to be resolved is which of Cigna's operations would be folded into Anthem plans that are currently licensed by the Blue Cross and Blue Shield Association, AIS says. Blues plans are strategically licensed so they will not be in competition with one another, and that could pose a challenge to non-Anthem BCBS plans in certain states.
According to AIS's Directory of Health Plans: 2015, Cigna trails Premera Blue Cross and Aetna in membership in Alaska. However Cigna has significantly more members than Premera in the commercial risk sector. Whether and how Anthem and Premera decide to leverage their Blues affiliation in Alaska could eventually impact Aetna's market share in that state.
In most states, however, Cigna's membership numbers make it a distant competitor to the BCBS entities that are in first or second place, according to AIS. And in states where Anthem and Cigna currently compete — Connecticut, Georgia, Indiana, Kentucky, Maine, Missouri, New Hampshire, Ohio, Virginia and Wisconsin — the deal would have the impact of solidifying BCBS dominance. Anthem has a number of non-BCBS licensed operations, including the AMERIGROUP plans it acquired in 2012 to gain a foothold in the Medicare and Medicaid markets.
Thanks in part to the AMERIGROUP acquisition, Anthem is already leading the Medicaid HMO sector, AIS found, and its only overlap with Cigna is in Texas, where the combined entity would have a 20% market share, vying for first place against Centene in a field that includes 16 other insurers. Each insurer currently covers more than 100,000 dual-eligible members nationally, mostly in D-SNPs. The deal's biggest duals-market impact would be in Texas, where the combined entity would have 35% share of dual-eligible plan membership.
SOURCE/METHODOLOGY: Analyzed by AIS researchers from data in AIS's Directory of Health Plans: 2015, AIS's Medicare and Medicaid Market Data: 2015, AIS's Medicare-Medicaid Dual Eligibles Database, AIS's Rx Benefit Data and company filings from 1Q2015.
About Atlantic Information Services
Atlantic Information Services, Inc. (AIS) is a publishing and information company that has been serving the health care industry for more than 25 years. It develops highly targeted news, data and strategic information for managers in hospitals, health plans, medical group practices, pharmaceutical companies and other health care organizations. AIS products include print and electronic newsletters, websites, looseleafs, books, strategic reports, databases, webinars and conferences. Learn more at http://AISHealth.com.