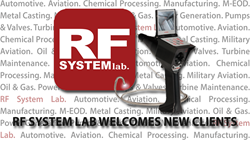 Traverse City, Michigan (PRWEB) July 28, 2015
June was a fantastic month for RF System Lab, a world-wide leader in remote visual inspection tools. Several unique and prestigious companies become new owners of the impressive VJ-Advance articulating video borescope in the month of June. Headlining these new customers are Cargo Jet, Bolton Medical, and RingSide Creative. Representing the aviation, automotive manufacturing, medical, and even the space travel industry, these new customers are welcome additions to the list of fantastic companies using the VJ-Advance.
RF System Lab is proud to have Cargo Jet as one of their newest customers from June. One of Canada's most prestigious air freight carriers, Cargo Jet works hard to maintain its reputation by providing excellent and on-time delivery service for its customers. With over a dozen locations in Canada and an impressive fleet of aircraft, Cargo Jet came to RF System Lab for their aviation turbine and visual inspection needs. They chose to use the VJ-Advance with a 6.9mm insertion tube with a 3.0 meter length. Pairing the cost-effective VJ-ADV with a more expensive borescope from another manufacturer, Cargo Jet found that the VJ-ADV from RF System Lab was their go-to "workhorse" borescope. With a low total cost of ownership and its rugged durability, the purchasing decision was and easy one for this new customer.
Bolton Medical proves how versatile the VJ-Advance can be. With multiple locations across the globe, Bolton Medical is a major player in the stent-graft industry. This company was looking for a video borescope to perform reliable quality control inspections on the finished stents. When human lives are on the line, the ability to quickly and confidently complete these inspections is critical. By placing these stents in a test environment that closely resembled a human body, Bolton Medical was able to confirm the integrity of the stents by using a video borescope. RF System Lab's VJ-Advance was a perfect fit for their inspection as the borescopes can be submerged into areas where wet or even chemically concentrated conditions are present.
Representing one of RF System Lab's new customers in the automotive industry is RingSide Creative. While RingSide specializes in many automotive applications, they chose the VJ-ADV to aid in their quality control inspections. Inspecting seat belts and manifolds after they have already seen use can be repetitive and time-consuming. RF System Lab's VJ Advance articulating video borescope was the perfect fit for quickly and easily ensuring that these safety components of motor vehicles are still road-worthy for drivers around the world. The VJ Advance's 360° articulation allowed RingSide Creative to check under seats and in other hard-to-reach areas of a completely-assembled automobile. RF System Lab is happy to welcome RingSide into its family of customers.
RF System Lab would like to officially welcome these companies, as well as all other companies that became customers not listed above. RF System Lab offers a no-cost, no-obligation demo of the VJ-Advance video borescope. If you would like to see how the VJ-Advance can save you time and money on your inspection needs, please visit RF System Lab's website or call 855-787-6966. Our borescope experts will be more than happy to make sure that you have the right tool for your inspections.