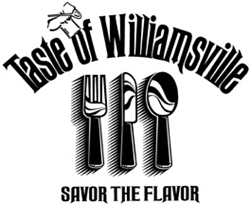 "Please join us with your families by enjoying some great food and music and supporting our local businesses." - William K. Mattar
Buffalo, New York (PRWEB) July 25, 2015
On Sunday, August 2nd 2015 from noon until 8pm the annual celebration of The Taste of Williamsville will take place. Join in on sampling food from the many great restaurants of Williamsville, all while listening to live music. William Mattar Law Offices will also be sponsoring a Shade Tent to keep you cool under the sun. You can also enter to win a gallon of William Mattar Favorite 4 Ice Cream created by Sweet Jenny's. Stop by the Sweet Jenny's booth and try Favorite 4, to have a portion of all sales donated to a local food pantry.
The Taste of Williamsville will also be adding a new segment this year for food judging by local celebrity judges from 3:30 – 4:30pm. Canned food donations will also be collected for the Food Bank of WNY. For more information please click here.
About William Mattar, PC
Established in 1990, William Mattar, P.C. represents individuals injured in motor vehicle accidents across the state of New York including the Buffalo, Rochester, Syracuse, Binghamton, New York City, Long Island and Albany areas. The experienced attorneys at William Mattar Law Offices are ready to help those injured in a car accident. The firm's main goal is to get their clients the best possible results in the least amount of time. They are well-known for the phrase "Hurt in a car, call William Mattar" and their easy-to-remember phone number, 444-4444. Their Immediate Response Team is ready to help 24/7.