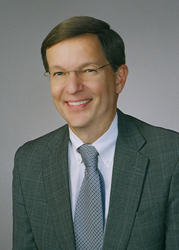 "I cannot express enough what an honor it is, and has been, to serve as President and Chief Executive Officer of this mission-oriented organization," said Shroder. "The people I have worked with are exceptional."
YOUNGSTOWN, Ohio (PRWEB) July 26, 2015
Robert Shroder, President & CEO, Youngstown Market, is announcing his retirement from Mercy Health, effective February, 2016. He has served in his present role for 13 years and has spent more than 18 years in executive leadership roles at Mercy Health, all in the Youngstown market.
"Throughout his career at Mercy Health, Bob has provided visionary and exemplary leadership that has helped to move the organization smoothly through transitions in the healthcare industry and changes in the Mahoning Valley market," said Brian Smith, Executive Vice President, Operations, Mercy Health. "He is a true servant leader, whose commitment to excellence and dedication to our mission of improving community health and serving all in need is a model for our leadership."
Under Bob's leadership, and the commitment of the physicians and employees of Mercy Health's Youngstown market, the organization has seen a significant growth in admissions, added the new 248-bed St. Elizabeth Boardman Health Center, expanded graduate medical education by adding four new residency programs, trained future nurses through the addition of Mercy College of Ohio Youngstown Campus, restructured the Mercy Health Foundation Mahoning Valley to enhance fundraising efforts to serve the mission, and brought new organizations into the health system including Hospice of the Valley, The Assumption Village, Humility House and Mercy Health Physicians.
"Bob's vision and leadership have enabled Mercy Health Youngstown to be proactive in responding to the challenges faced in the health care industry and to expand our services, facilities, and programs to meet the needs of the community and provide outstanding care throughout our market," said Betty Jo Licata, Board Chair, Mercy Health, Youngstown. "Bob's commitment to our mission and his ability to form high-value strategic partnerships are the hallmarks of his success."
Bob's tenure included many additional accomplishments to enhance quality care including establishing a partnership with Akron Children's Hospital, recognition of nursing excellence with all three hospitals receiving Nursing Magnet Status, and multiple awards for clinical quality from organizations such as U.S. News & World Report, HealthGrades, Anthem, National Research Corporation, Thomson Reuters, and Center for Medicare and Medicaid Services.
"I cannot express enough what an honor it is, and has been, to serve as President and Chief Executive Officer of this mission-oriented organization," said Bob Shroder. "The people I have worked with are exceptional -- that includes those at all sites and all levels of the organization -- the Board of Directors, Mercy Health executives, senior leadership team, management, support staff, and the fantastic physicians, nurses and other clinicians who provide hands-on care."
Mercy Health will conduct a search for the position of President and Chief Executive Officer for the Youngstown Market. Having a six-month period to plan for the retirement will allow for a smooth transition both within the organization and the community.
About Mercy Health Youngstown
Mercy Health Youngstown, formerly Humility of Mary Health Partners, is an integrated health system in the Mahoning Valley, which encompasses the Youngstown/Warren metropolitan area – Mahoning, Trumbull and Columbiana counties in Ohio. It is part of Mercy Health, which is headquartered in Cincinnati and is the largest health system in Ohio and one of the largest Catholic health systems in the United States. Mercy Health Youngstown provides a full spectrum of health care services – acute inpatient and trauma, outpatient and ambulatory, rehabilitation, behavioral, emergency and urgent care, primary care physicians in patient-centered medical homes, specialist physician care, home health, home medical equipment, long-term care and hospice care, as well as Mercy Health Foundation Mahoning Valley. Learn more at http://www.mercy.com/Youngstown.