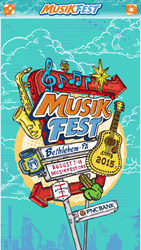 Bethlehem, PA (PRWEB) July 24, 2015
Musikfest, the nation's largest free music festival, has announced the launch of a new, free mobile app for all of its patrons thanks to longtime festival sponsor PNC Bank and Mirum, a leading global digital technology, marketing and advertising agency.
The 2015 Musikfest app features everything Musikfest's one million guests need to know about the festival's 500-plus performances, 325 performers, 40 artists and 30 different food vendors. Previously available only to Apple iOS users, the app is now available for Android operating systems. PNC Bank helped underwrite the development costs for the nonprofit music festival app.
"When you present 325 performers on 16 stages, it can sometimes be challenging for guests to learn about everything taking place at the festival," said ArtsQuest Senior Vice President of Marketing and Corporate Partnerships Curt Mosel. "Mirum has done an excellent job developing an app that offers great functionality and features that allow our guests to quickly and easily navigate Musikfest on their smartphones, tablets and other devices. Thanks to PNC Bank, we're able to make this technology available to more people than ever. Now, for the first time, all of our fans can take advantage of this great resource and use it to discover the hundreds of free music and art performances that will be taking place throughout Bethlehem this August."
Among the other features of the app are special offers to area restaurants, a festival map, the ability to easily locate PNC ATMs on-site and information about PNC educational initiatives at the festival such as the Grow Up Great Mobile Learning Adventure, designed to help teach young children about various career and professional opportunities.
"Musikfest brings the community together each year while placing Bethlehem and the Lehigh Valley on center stage," said Pete Danchak, regional president for PNC Bank in Northeast PA. "The introduction of a new mobile app is a perfect way to help visitors navigate all of the engaging features of this great event from the convenience of their smartphone."
Developed by Mirum, working closely with ArtsQuest marketing staff, the 2015 Musikfest app includes features such as performer schedules, biographies, in-app ticket purchasing and more. The app's newest social feature, "Snap, Share & Win," allows users to take photos and apply a range of Musikfest frame filters before sharing with family and friends on social media channels including Facebook, Twitter, Instagram and Pinterest. Once images are shared, users are automatically entered to win Musikfest prizes such as main stage concert tickets, food and beverage tickets and Musikfest merchandise.
"Mirum is proud to partner with ArtsQuest on the new Musikfest mobile app," said Lorenzo Vallone, Senior Vice President and Chief Technology Officer at Mirum Miami. "With well over 900,000 attendees at the festival, delivering a fun, engaging and valuable experience for users was a key priority. Keeping this broad audience in mind, the newest feature, 'Snap, Share & Win' uses gamification to drive social sharing and significant earned media while adding to the experience for concertgoers."
The Musikfest 2015 app is available for download now at the iTunes Store and Google Play stores. An update for the app will also be available next week. Download the app now at:
iTunes - https://itunes.apple.com/us/app/musikfest/id541330518?mt=8
Google Play - [https://play.google.com/store/apps/details?id=org.musikfest.android
About PNC Bank
The PNC Financial Services Group, Inc. (NYSE: PNC) is one of the largest diversified financial services institutions in the United States, organized around its customers and communities for strong relationships and local delivery of retail and business banking; residential mortgage banking; specialized services for corporations and government entities, including corporate banking, real estate finance and asset-based lending; wealth management and asset management. For information about PNC, visit http://www.pnc.com.
About Mirum
Mirum is a new agency created with a pioneering spirit, built by bringing together successful regional companies that have a deep understanding of local market needs. Our principles are rooted in innovation, design, data, marketing and technology to drive business transformation in a world of constantly evolving behaviors and expectations. Operating in 17 countries, with 40 offices and more than 2,200 professionals, Mirum is a global agency that is part of the J. Walter Thompson Company and WPP family. For more information, visit mirumagency.com.
About Musikfest
Musikfest, presented by the nonprofit ArtsQuest, is made possible thanks in part to the support of more than 150 corporate partners, 1,700 volunteers and 2,200 supporting ArtsQuest Members. The festival, now in its 32nd year, takes place throughout Bethlehem's Historic District, as well as the SteelStacks arts and cultural campus located on the site of the city's former Bethlehem Steel plant. For more information on Musikfest, visit http://www.musikfest.org.
Media Contacts:
Mark Demko, ArtsQuest, 610-332-1342 or mdemko(at)artsquest(dot)org
Jason Beyersdorfer, PNC Bank, 609-651-5617 or jason(dot)b(at)pnc(dot)com
Jocelyn Weiss Malas, Mirum, 646-509-6230, jocelyn(dot)weiss-malas(at)jwt(dot)com