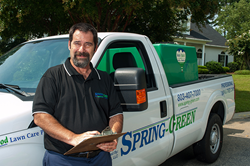 Plainfield, IL (PRWEB) July 28, 2015
Spring-Green Lawn Care is pleased to announce Todd Harcourt, franchise owner servicing the areas of Columbia, Irmo and Lexington in South Carolina, has extended his franchise rights through 2025. Originally signed as a Spring-Green Lawn Care franchise in 2005, his renewal includes an expansion into two new areas—Newberry and Saluda counties.
"We always are pleased when our existing strategic partners choose to renew their franchise agreements, it means we have a strong partnership that is working," said James Young, Spring-Green president. "Todd and his wife, Janine, have been growing and building the brand locally for the last 10 years, and we look forward to the next 10." Young added, "As a franchisor we work very hard to provide marketing, operational and financial support to our national network of franchise owners. However our success is based on the local owner being able to build relationships with the customer, while providing them with the best Quality, Service, Professionalism and Value, making them the market leader in residential fertilization and weed control services. Todd and Janine provide great customer service, and it shows through their ability to retain customers and build long lasting relationships in the community."
Harcourt has found his partnership with Spring-Green extremely valuable over the years. He places a high value on the marketing programs that the Spring-Green support center manage on his behalf and has found the support to be an integral part of his success.
"One of the many benefits of being a Spring-Green franchise owner is being able to network with other owners," Harcourt explained. "Being able to see what they are doing that works, and what doesn't, is a huge help." That kind of networking opportunity can also be explored at the upcoming National Training Conference, in August, where franchise owners from around the country have the opportunity to interact with each other and share best practices.
"We have been fortunate to be in a niche area of the green industry, one that has been fairly insulated from economic downturn and that is not contingent on new housing starts," Harcourt said. The consistent and controllable growth Harcourt's business has experienced year after year, when many other businesses have failed, has allowed him to focus on customer retention. "This business may not have had the explosive growth other new trendy franchises have, but we were able to weather the recession and have grown the business steadily by providing services that beautify the environment."
According to Project Evergreen, healthy turf not only looks great, it also provides an environmental benefit. One tree can remove 26 pounds of carbon dioxide from the atmosphere and 2,500 square feet of turf absorbs carbon dioxide from the atmosphere and releases enough oxygen for a family of four to breathe.
"We have established ourselves as the local professional," continued Harcourt, "and we can see that reputation in the marketplace. It's something we are very proud of."
About Spring-Green Lawn Care
Founded in 1977, Plainfield, Illinois-based Spring-Green Lawn Care has been delivering lawn and tree care services nationwide for over 38 years. Its service is centered on the beautification of residential and commercial customers in middle-class and affluent neighborhoods and communities. Spring-Green is an attractive opportunity for entrepreneurs and existing green industry business owners who want to align themselves with a business model that has proven economic resilience, healthy profit margins, industry leading business and marketing intelligence, recurring revenue and retirement and succession planning. For more information, visit http://www.springgreenfranchise.com.