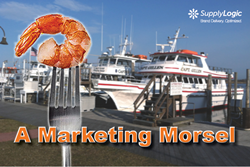 Hauppauge, NY (PRWEB) July 27, 2015
SupplyLogic, a marketing execution partner based in metro New York and Chicago has published its first executive blog on its newly redesigned company Website. In the blog, Founder and CEO Kevin Sherlock discusses the value in supply chain visibility by quoting the common wisdom of a popular comedian: "Comedian George Wallace always asks: 'Why is it the closer you get to the ocean, the more seafood costs?' Those of us in brand delivery know there is great value in supply chain visibility."
Readers can view the full blog at: http://supplylogic.com/2015/07/23/some-seafood-for-thought/
NOTE: News Media Editors may republish the full blog available at the Website if they credit the original author and include a link to SupplyLogic.com
Marketing departments are very busy, but expensive to run. Attempts to streamline their efficiency must, by definition, address the largest distraction they face: the day-to-day management of high internal customer demand and the associated production and supply chain management — the basic sources of system inefficiency. People spend too much time ordering, tracking, chasing and reviewing print, promotion, packaging and content requisitions; yet end up with an inauthentic user experience at a higher cost.
SupplyLogic removes cost and risk, while enforcing brand consistency and empowering demand capture teams to perform. We feature the uniquely talented professionals, proven methodologies and certified partners it takes to fully optimize brand delivery.
About SupplyLogic
SupplyLogic is a privately held marketing execution partner for large enterprises founded in 2004. The company has operations in metro New York and Chicago and expert resources on-site at client headquarters across the United States. SupplyLogic's leveraged model delivers a 15 to 45 percent reduction in marketing supply chain costs associated with the print, promotional, packaging and digital categories. The company transforms and optimizes the brand delivery process to reduce risk, manage compliance, simplify ordering, and provide key stakeholders with real-time visibility into performance. SupplyLogic is unique for its alliance with top private equity firms and deeply embedded services managed by on-site subject matter experts supported by the most experienced leaders in this space.
Visit SupplyLogic.com for more information.