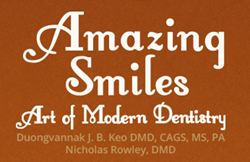 Merritt Island, FL (PRWEB) July 24, 2015
Dr. Duongvannak J.B. Keo now consults with new patients about sleep apnea in Merritt Island, FL, without requiring a referral from a doctor. After receiving a consultation from Dr. Keo, patients can then decide if they want to receive a referral from their primary doctor and pursue sleep apnea treatment. Dr. Keo's background in sleep dental medicine helps him determine the best form of treatment based on the severity of each patient's symptoms and the underlying cause of their condition.
Many individuals who suffer from sleep apnea in Merritt Island, FL, often suffer from a diminished quality of life due to their condition. Sleep apnea can affect anyone, regardless of age or gender. The common symptoms of sleep apnea can include chronic fatigue, sleepiness during waking hours, inability to focus, and lack of energy to perform daily tasks. Many patients experience loud snoring, which is reported by bed partners. Difficulty breathing and multiple waking episodes during the night are also common and can lead to restless, unproductive sleep. By disturbing the body's normal sleep cycle, work performance and other responsibilities are negatively affected. When left untreated, sleep apnea may lead to major medical related conditions such as diabetes, hypertension, heart disease, weight increase, and acid reflux.
Thanks to advances in sleep dental medicine, treatment for obstructive sleep apnea (OSA) is fairly straightforward in most cases. As recommended by the American Academy of Sleep Medicine, oral appliances (OA) are used to treat those individuals with mild to moderate OSA. Oral appliances are also use as an alternative treatment for patients who are not good candidates for the use of continuous positive applied pressure (CPAP), and those who are not able to tolerate the use of CPAP. Depending on the underlying cause of the problem, Dr. Keo may recommend that the patients wear oral appliance at night, undergo surgery, or make lifestyle changes to reduce the severity of OSA.
Individuals with sleep apnea in Merritt Island, FL, are encouraged to take control of their condition and improve their quality of life by scheduling a consultation with Dr. Keo's dental practice. After consulting with Dr. Keo about their symptoms, the patients are then armed with valuable information that will help them decide if there is a need to follow up with the sleep specialist for further testing and treatment options. Patients are welcome to visit Dr. Keo's website at http://www.dockeodental.com or call (321) 978-0730 to schedule an appointment.
About the Doctor
Dr. Duongvannak J.B Keo is a general dentist offering personalized dental care for patients in Merritt Island, Florida. Dr. Keo studied at Boston University School of Dental Medicine where he earned his DMD and completed his post-doctoral Advanced Education Graduate Dentistry. Dr. Keo has also earned a post-doctoral Master of Science degree from Tufts University School of Dental Medicine at the Gelb Craniofacial Pain and Sleep Dental Medicine Center. Dr. Duongvannak Keo was a full-time clinical instructor in the Department of Restorative Dental Sciences at Boston University School of Dental Medicine. He is a member of the American Dental Association, American Orthodontic Society, American Academy of Implantology, American Academy of Craniofacial Pain, American Academy of Dental Sleep Medicine, The International Academy of Oral Medicine and Toxicology among others. With his advanced dental degrees and experience, Dr. Keo strives to provide quality, comprehensive care to all his patients.