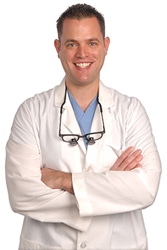 Cushing, OK (PRWEB) July 24, 2015
People who have lost teeth can now quickly replace them with highly functional prosthetics when they visit Dr. Dan Messer for OCO Biomedical dental implants in Cushing, OK. These implants eliminate the mandatory healing period that normally follows implant placement, allowing patients to receive an immediately stable replacement for their missing teeth. These implants also stimulate healthy bone growth and boast a high overall success rate.
Dental implants are the only type of tooth replacement that is secured in the alveolar bone, and as a result, implants offer unusual health benefits. Most notably, implants prevent the bone density loss that normally follows tooth loss by stimulating the bone and promoting cellular regeneration. Implants can help prevent a person's remaining teeth from shifting out of place. Implants also support a full diet and stay secure in any situation, allowing patients to continue their regular activities. Still, a potential drawback of regular implants is the necessary healing period, which lets the implant studs integrate with the bone before prosthetics are attached. This period may take several months, which can be inconvenient for patients with multiple missing teeth. Dr. Messer offers OCO Biomedical implants so that patients can receive fully grounded and functional dental implants in Cushing, OK in one appointment.
OCO Biomedical dental implants are designed to lock into place immediately and stimulate regeneration in the alveolar bone. The tip of the implant studs pulls the bone up and around the threads of the implant, which promotes growth and also stabilizes the placement of the implant. Threads near the collar of the implant further help secure the implant. This design guarantees that the implants can immediately anchor prosthetics with the same level of security that regular implants provide after months of healing. OCO Biomedical implants also allow people with missing teeth to receive the smallest implant size and then progress as needed to larger implants. These implants offer Dr. Messer's patients a minimal risk of failure, with a proven success rate of 99 percent.
People who have lost natural teeth may benefit from considering implants shortly afterward. Although implants promote bone growth and stabilize density levels, bone density loss is an irreversible process. Receiving dental implants sooner is the most effective way to prevent this loss. Patients who are interested in receiving OCO Biomedical dental implants in Cushing, OK can schedule consultations by visiting Dr. Messer's website or calling his office.
About the Doctor
Dr. Dan Messer is a general dentist offering personalized care for patients in Cushing, OK. Dr. Messer and his staff take a customized approach when treating patients, and are dedicated to providing high quality care. Dr. Messer offers a variety of modern dental services including general procedures, cosmetic dentistry, orthodontics and dental implants. To learn more about the services offered by Dr. Messer please visit his website at http://www.thecushingdentist.com or call (918) 225-0420 to schedule an appointment.