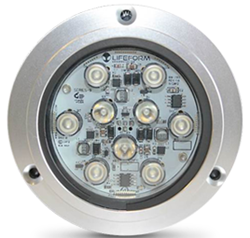 "Bright and Beautiful!"
Boise, Idaho (PRWEB) July 28, 2015
Lifeform LED, the leader in underwater LED lighting technology celebrates its 4th year in business. Lifeform LED began in July 2012 when their engineers felt there were was a need for a better underwater LED boat lights that did not tarnish and would be bright with extended performance. To celebrate their anniversary, Lifeform LED is offering over $150 off a pair of its most popular light, the blue Lifeform 9 underwater LED boat lighting system. Take advantage of their anniversary sale on a pair of the popular blue Lifeform 9 underwater LED boat lights. Company spokesman, Bill Jacobs, is quoted as saying, "Most of our customers say they are very happy, their boats look great and other boaters, that don't have underwater LED boat lights, are jealous."
The Lifeform 9 (part of the Ultra Series) is the ultimate inshore underwater LED boat lights. This nine LED configuration boat light produces 2,637 lumens of intense light output. The lumen/dollar ratio makes it one of the most valuable underwater boat lights on the market, generating more light output per dollar than its competition. Simply put, it's the best underwater boat light and wakeboarding light on the market today in terms of price and brightness.
The Lifeform 9 underwater boat light was designed for trailered boats - perfectly suited for wake boats, bass boats or any other inshore vessel that is not permanently submerged. The light can also be paired with Lifeform's interchangeable skins- bright dip anodized aluminum rings that can be added to Lifeform 6 and Lifeform 9 underwater boat lights. The skins come in five different color options, designed to match the exterior hull of the boat. This ensures that the lights look great in and out of the water. Currently, Lifeform LED is the only provider of this underwater boat light technology.
The Lifeform 9 is constructed with a tempered glass face (stronger to commonly used plastic polycarbonate lenses) housed in a marine grade anodized aluminum body, making it 100% waterproof and impact resistant. It comes with dual thermal protection and a soft start feature for added efficiency. The light's unique 18-34 degree beam angle technology guarantees intense light penetration and dispersion. The Lifeform 9 is available in the following color options: blue, white, and green. Each LED has a lifespan of 40,000+ hours. It mounts directly to the transom, hull, or any flat surface for optimal underwater illumination. It can be self-installed in under two hours. If you have more questions, please see our FAQ page.
For boaters with permanently submerged ocean vessels, or heavy use coastal marine areas (salt water use) please see our TITAN series.