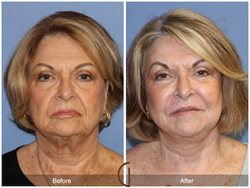 some of today's most common aesthesis concerns, including Botox®, double chins and wrinkles.
Newport Beach, CA (PRWEB) August 06, 2015
Recently, Newport Beach Facial Plastic Surgeon Dr. Kevin Sadati, released commentary explaining some of today's most common aesthesis concerns, including Botox®, double chins and wrinkles.
As a member of the American Academy of Facial Plastic and Reconstructive Surgery (AAFRS), a Diplomat of the American Board of Cosmetic Surgery (ABCS) and a board certified facial plastic and ENT (ear, nose, throat) surgeon, Dr. Kevin Sadati is considered a leading authority on facial plastic surgery.
"We have many patients who ask us about Botox® treatments," says Dr. Sadati. "Many of our patients don't want to have surgery performed on them if there will be an extended recovery period. Botox® is one of the safest and most common non-surgical cosmetic treatments. This makes it ideal for patients who want to minimize smaller, fine lines and wrinkles on their face without dealing with the downtime of a more advanced cosmetic surgery procedure."
Dr. Sadati added that another common concern brought up by patients is double chins. "Many people are born with a retrusive chin that simply isn't as prominent as it should be. This can cause the skin and fat under your skin to be more prominent and give the double chin appearance. Chin augmentation utilizing a chin implant or specialized fat transfer techniques using Platelet Rich Plasma (PRP) allows us to achieve results for patients with less surgery and a much quicker recovery time than other alternatives."
According to the Newport Beach facial plastic surgeon, another common concern among patients is loose skin around the neck. Dr. Sadati explained that one way to help increase elasticity of the skin is to eat foods high in omega-3 essential fatty acids. He also recommended using medical grade skincare products meant for one's face on neck skin, rather than products formulated for thicker skin. As for a minimally invasive cosmetic procedure, fractional CO2 laser resurfacing is suggested to stimulate collagen and improve the tone and texture of one's skin.
Dr. Sadati has pioneered a number of innovative cosmetic surgery procedures used by hundreds of doctors worldwide, including one procedure which uses free fat transfer with Platelet Rich Plasma to reduce a patient's recovery time from a number of key procedures. With more than a decade of experience in facial plastic and reconstructive surgery, as well as nose and sinus surgery, Dr. Sadati has become a top Orange County cosmetic and sinus surgery specialist.
For more information on Dr. Sadati and his services, visit the Gallery of Cosmetic Surgery's website.