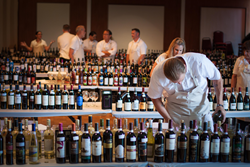 Long Beach, CA (PRWEB) July 27, 2015
This year's Long Beach Grand Cru judging concluded with a surprise winner in one of the highest award categories possible. In a stunning upset, an unusual varietal made from the Geisenheim grape, hailing from Wisconsin, "crushed" the competition to walk away the sweepstakes winner for white wines!
The award-winning wines will be available to the public in a spectacular public tasting, from 6 – 9 pm on August 8 at the South Coast Botanic Garden high atop the scenic Palos Verdes Peninsula. Tickets and additional details for the event are available online at http://www.longbeachgrandcru.com or by calling (213) 640-3894.
"This is particularly important for our competition because it's so unusual," said Long Beach Grand Cru chief judge, Dan Berger. "Normally you would see a more standard varietal winning, but this is something that our judges say can only happen in Long Beach."
He added, "This is a big win not just for that specific winery, but for the winemaking region of Wisconsin and for all winemakers of that grape varietal. This is also an indicator that our competition is unbiased and open minded toward unusual varietals and regions, and also signifies the quality and level of judges that we have."
The Long Beach Grand Cru is a nonprofit wine competition benefitting the Legal Aid Foundation of Los Angeles and its partnership with The Children's Clinic in Long Beach. More than 800 wines from domestic and international vineyards received awards from a field more than 1,000 entries.
This year, the medal-winning wines were judged July 18th and 19th at the Long Beach Petroleum Club. Utilizing an extensive, double-blind judging process that divided the varietals into several categories and subcategories, the competition gave judges the chance to rate entries as Bronze, Silver, Gold, Double Gold (equivalent to a unanimous Gold rating by all panel members) and Chairman's Best of Class.
Only five entries were honored with the prestigious Sweepstakes Award in the categories of Red, White, Rosé, Sparkling and Dessert wines. All sweepstakes- nominated wines are tasted by all 27 judges, who then vote for the five sweepstakes winners:

Best Overall Red: Daniel Gehrs, Rocker Rarities, 2012, Central Coast
Best Overall White: Elmaro, West Prairie White, 2014, Reserve, America (Country Appellation)
Best Overall Rosé: Goose Watch Winery, Cabernet Franc Rosé, 2014, Finger Lakes
Best Overall Sparkling: Gloria Ferrer, Royal Cuvée, 2006, Carneros
Best Overall Dessert: Red Soles Stillhouse, Limoncello (New Brandy infused with lemons), NV, Paso Robles, CA.
Tickets and additional details for the event are available online at http://www.longbeachgrandcru.com or by calling (213) 640-3894.
For a full list of the winning wines, please visit http://www.longbeachgrandcru.com.
About Legal Aid Foundation of Los Angeles (LAFLA)
This is the frontline law firm for poor and low-income people in Los Angeles and Long Beach. Since 1929, LAFLA has been committed to changing the lives of families and the community through direct representation, systems change and educational programs.
LAFLA and The Children's Clinic in Long Beach, a community health center dedicated to serving medically underserved, low-income communities, have partnered to create the Greater Long Beach Medical-Legal Partnership. The partnership fosters family safety, stability, and positive health outcomes for adult and child survivors of domestic violence through coordinated medical, legal, and social services. This collaborative approach, combining the skills of attorneys, medical professionals and social workers, allows the two organizations to provide a holistic response to the complex needs ranging from survivors of domestic violence to being a low-income patient.
Contact:
Franke Santos
Communications Manager
Long Beach Grand Cru
Legal Aid Foundation of Los Angeles
Phone: (323) 801-7981
Email: fsantos(at)lafla(dot)org