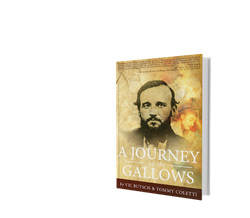 Authors Butsch and Coletti's passion for their local historical hero is one that is both commendable and refreshing.
(PRWEB) July 27, 2015
Aaron Dwight Stevens, a tumultuous, ill tempered, zealous and noble, young man is an American Hero often overlooked. Through his 29 full years, Dwight Stevens acted on his convictions, adventured near and far, and ultimately, woke the nation up to the start of a new chapter in America's history- The end of slavery.
Through historical facts and fictional flare authors Butsch and Coletti resurrect the story of a true 1800s adventurist and legend. In this gripping novel readers will enjoy the realistic tales of Dwight Steven's journey through the War against Mexico, the Dragoons, Bloody Kansas, the love of two women, and the destined conclusion at Harper's Ferry. Paired with the emotional credence of Dwight Steven's beliefs, and the unwavering devotion of his fellow abolitionists, A Journey to the Gallows brings history to life in the most entertaining way.
Authors Vic Butsch and Tommy Coletti will be available and appearing at numerous popular fairs in Connecticut throughout the Summer and Fall.
Their short tour will begin on On Friday, August 21, 2015. Vic and Tom will be at the Bozrah Farmers Market which is the 2nd rated fair in all of Connecticut, and voted ninth in the Country.
Following their appearance at the Bozrah Farmers Market, the authors have been invited and will be proud to give a presentation at the Faith Trumble DAR (Daughters of the American Revolution) at 11:00AM in Norwich on Saturday September 12, 2015.
The authors will wrap up their tour by participating in the 2nd Annual Norwich Authors Day to be held at the Slater Museum on the campus of Norwich Free academy on October 31, 2015 beginning at 1:00 PM.
You can find more information about the book and the authors at http://www.ajourneytothegallows.com/
Vic Butsch:
Vic graduated from Augustana College in Rock Island, Illinois, in 1969, and joined the Army Reserve. He taught Civil War classes in the Norwich adult education program, is a board member of the Norwich Historical Society, and is the Program Director for the Norwich area Civil War Round Table.
Tommy Coletti:
Tommy served in the U.S.A.F. as a medic from 1968-72. He graduated from Eastern Connecticut State University in 1976. He is the author of three other books, Special Delivery, Dishonorably Interred and Liam's Story. He lives in Sprague, Connecticut with his wife Donna, and their four children.