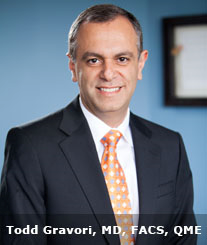 "A spinal stenosis injury for a football player may be more serious than for a baseball player, simply due to how much contact and stress is put on the spine," said Dr. Gravori.
Los Angeles, CA (PRWEB) July 28, 2015
A June 3, 2015 article from Fox Sports entitled "A Breakdown of Mets' David Wright's Spinal Stenosis Injury" discussed baseball player David Wright's spinal stenosis injury and his chances of returning to the field. Wright's spinal stenosis is acquired lumbar stenosis, brought on by degenerative changes in the spine, rather than congenital, which is good news for him as acquired stenosis can often be managed effectively with conservative treatments such as lumbar epidurals. However, spinal stenosis can be exacerbated by twisting and stretching of the spine, which are movements necessary in baseball. Dr. Gravori, a noted spinal surgeon in Los Angeles, comments on spinal stenosis and how best to manage it.
"Spinal stenosis can be either congenital, meaning present from birth, or acquired," explained Dr. Gravori, director of ProMedSPINE in Los Angeles. "Acquired stenosis is not necessarily a career killer, as it can be effectively managed. However, the nature of the sport must be taken into account as well. A spinal stenosis injury for a football player may be more serious than for a baseball player, simply due to how much contact and stress is put on the spine."
Spinal stenosis is a condition in which the spinal canal is narrowed, thereby placing pressure on the spinal cord or the exiting nerves and causing pain, numbness, weakness, or tingling in the back and lower extremities. This narrowing of the spinal canal can be caused by a number of issues, including herniated discs, thickening of spinal ligaments, bone spur formation, and spine trauma. Spinal stenosis is unfortunately irreversible, but the symptoms from the condition can often be managed very well with conservative treatments.
"Conservative treatments, such as physical therapy, medications, and steroidal injections, are often enough to manage symptoms of spinal stenosis," said Dr. Gravori. "If the symptoms get worse or do not respond to conservative treatment, there are minimally invasive surgeries available that can effectively treat the underlying causes of stenosis."
Minimally invasive spine surgery may be tried if conservative therapies fail. Fortunately, nowadays, spine surgery can be very effective and does not require the same amount of recovery time that it used to in the past. Minimally invasive spine surgery can be performed on an outpatient basis, meaning that the patient will be able to go home the same day as the surgery, and relief from symptoms is often very quick.
"Only time will tell how long David Wright will be able to continue his baseball career while managing his spinal stenosis," said Dr. Gravori. "There are a number of factors at play that could all affect the outcome. However, in the meantime, he is lucky that the stenosis was not congenital, and that conservative therapies appear to be helping."
Based in Los Angeles, Todd Gravori, MD, FACS, QME is a board-certified spinal and neurosurgeon specializing in the treatment of back, neck, and spinal conditions via minimally invasive procedures. From each of his five boutique locations, Dr. Gravori offers comprehensive treatment including diagnosis, education, treatment, surgery, and aftercare. Dr. Gravori offers treatment for herniated discs, spinal instability, spinal deformity, spine tumors, brain tumors, meningioma, hematomas, cavernous malformations, and carpel tunnel. Unlike large hospitals, Dr. Gravori's unique outpatient structure offers personalized care in a safe and controlled environment. To learn more about Dr. Gravori and his high-end outpatient facilities, visit the new website at http://www.ProMedSpine.com.