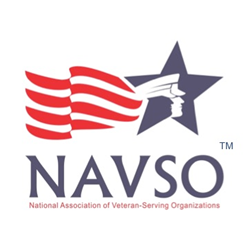 We created NAVSO to help amazing organizations serving veterans and military families work more effectively and efficiently.
Washington, DC (PRWEB) July 28, 2015
Online today, Tuesday, July 28th, the National Association of Veteran-Serving Organizations (NAVSO) has launched a powerful new tool that gives non-profit organizations serving veterans and military families access to important grant data not previously offered to the veteran-serving community. NAVSO's Grant Map contains information on more than 19,000 grants made by more than 3,800 funders to more than 2,200 recipient organizations in the veterans' space. All told, these grants exceed $826M since 2003. This mapping tool, created by Foundation Center, is now available on http://www.navso.org. As a registered user on the NAVSO portal, organizations can drill down into each grant by geographic location and subject matter to learn more about the donor and the recipient. This new resource will help nonprofits better identify appropriate donors who have a history of giving to causes similar to their own. While this information has been available to foundations through the Council on Foundations website for some time, this is the first time foundations and non-profits will be working off of the same data.
"We created NAVSO to help amazing organizations serving veterans and military families work more effectively and efficiently," says NAVSO CEO Chris Ford. "This new resource will help organizations identify new funders, cultivate more meaningful donor relationships, and ultimately, develop a more-sustainable business model so they can continue to serve veterans and family members for decades to come. Launching the grant map improves transparency, which will ultimately lead to NAVSO's vision where veterans and military families receive the best services possible."
Current NAVSO subscribers have had early access to this tool, and already the feedback has been remarkable. James Brobyn, Co-Founder and Managing Director of CauseEngine said, "As a former Executive Director of a veteran-serving organization and now small business owner working exclusively to serve nonprofits, breaking down the mystique of how and where grant makers give is a crucial first step towards honest and open collaboration. If there is any group of nonprofits that have the grit and determination to innovate and actually implement collective impact, it is the veterans in the social sector. NAVSO is filling the crucial gap that will unite the tribes."
Organizations can access this new tool and other resources such as a consolidated library, a peer-to-peer user forum and webinars via the NAVSO portal at http://www.navso.org. To specifically access the grant map, users should click on the top navigation bar under the "Tools" section. New users will be prompted to create a free user account before accessing the map.
"We're excited to provide this map that uncovers the details of funding for programs that help American veterans and military families," said Lisa Philp, Vice President for Strategic Philanthropy at Foundation Center. "This knowledge will help funders and nonprofits alike connect and collaborate, ultimately resulting in more effective and efficient delivery of services to those who need it most."
Although this resource boasts thousands of grants dating as far back as 2003, it is far from complete. Data will be updated weekly as new information becomes available. If an organization would like to submit grant data to Foundation Center, please join their Electronic Grant Reporting (http://foundationcenter.org/grantmakers/e-grants) program or e-mail them at egrants(at)foundationcenter(dot)org to get started.
About the National Association for Veteran-Serving Organizations (NAVSO)
The National Association of Veteran-Serving Organizations (NAVSO) is an IRS-approved 501(c)(3) organization focused on improving outcomes for veterans and military families through data-driven collaboration. They are answering the call to bring together the over 42,000 non-profits, government entities and private organizations serving the military and veteran community. NAVSO seeks to remove silos and improve service delivery effectiveness in the military and veteran community. For more information about NAVSO, please visit: http://www.navso.org
About Foundation Center
Established in 1956, Foundation Center is the leading source of information about philanthropy worldwide. Through data, analysis, and training, it connects people who want to change the world to the resources they need to succeed. Foundation Center maintains the most comprehensive database on U.S. and, increasingly, global grantmakers and their grants — a robust, accessible knowledge bank for the sector. It also operates research, education, and training programs designed to advance knowledge of philanthropy at every level. Thousands of people visit Foundation Center's website each day and are served in its five regional library/learning centers and its network of more than 450 funding information centers located in public libraries, community foundations, and educational institutions nationwide and around the world. For more information, please visit foundationcenter.org or call (212) 620-4230.