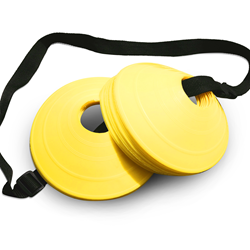 Commit, Apply, Succeed !!
Los Angeles, California (PRWEB) July 27, 2015
Trained Sports, a brand new sports equipment company, is thrilled to announce a new product that can help people improve their agility. The 24 piece sports cones set is the company's answer to a growing need for a more convenient and effective agility training equipment. This set also comes with a sturdy shoulder strap for easy transport, along with a free ebook filled with comprehensive agility drills. The new agility training tool is the second addition to the company's current training line, which also includes an easy-to-carry agility ladder, which was launched last year. Trained Sports says they are pleased to present another effective agility training tool that can compete with any big name, expensive brands out there.
Chris Moal, Trained Sports company spokesperson, says agility training doesn't have to be expensive to be effective. He adds, "I've been a sports buff for many years now, and when I look at how football and soccer coaches do their agility drills, it's easy to see how it can be inconvenient 90 percent of the time, because they have to deal with a lot of bulky, expensive equipment."
The company says agility training only works when players can focus more on their drills, not on falling cones or lugging expensive equipment around. Trained sports reveals that the best sports players really don't rely on fancy sports equipment to get the work out they need.
Trained Sports on the Best Way to Do Cone Drills
Moal said trainees should focus on keeping the right cardio workout that's appropriate for their unique game intensity. This prevents injuries. People should concentrate next on their rep strategy and how hard they want to hit the floor. For drills, players can try the X-Drill to improve footwork and directional agility or they can use the popular 3-cone drill for agility and speed that's perfect for football. The Trained Sports 24-pc Agility Sports cones Set is now available on Amazon, for the introductory price of $19.99. Each purchase comes with a convenient 2-inch carry on strap that can carry up to 150 Trained Sports cones.
Cones are made of durable LDPE plastic that retains its shape, even when stepped on. This set is recommended for Field Coordination Exercises, Marking Training Courses or Establishing Boundaries. The free agility drills ebook includes additional, fun ways to do effective agility training. Also advisable for sports enthusiasts of all ages – children's soccer, baseball or other team sports.
Trained Sports is a start-up company that specializes in quality but inexpensive training equipment, for all kinds of fitness and sports enthusiasts. The company hopes to promote physical wellness through innovative sports equipment that can inspire anyone to reach their fitness goals, through a more enjoyable workout experience.