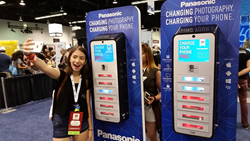 Brightbox is delighted, with our partner Panasonic, to offer VidCon fans our secure and interactive mobile device recharging platform. We're enabling continuous and empowered social connection via online video and fully charged mobile devices
New York, NY (PRWEB) July 25, 2015
Brightbox, Inc. (http://www.brightboxcharge.com), the leading global platform provider of networked, safe and secure mobile device recharging and engagement solutions, is pleased to announce that it has teamed with Panasonic to keep the throngs attending VidCon 2015, at the Anaheim Convention Center, from July 23rd to July 25th, charged and engaged.
Brightbox, a New York based B2B kiosk technology company, is the global leader in developing and deploying secure recharging stations for on-the-go people to stay connected via their mobile devices, including cell phones, phablets, backup chargers and batteries. The Brightbox® Mark3 mobile charging platform is the most advanced, innovative and secure mobile device recharging solution available.
VidCon brings the leaders of the online video industry together to discuss, predict, debate and discover the future of the online video industry through keynotes, fireside chats, round-tables and hands-on learning focused on the nuts and bolts of writing, editing, shooting, lighting, marketing, monetizing, and creating online video. More than 20,000 attendees will be converging on the three-day conference to connect with 300 of the most innovative and influential YouTube creators who are there to perform and discuss their work.
Brightbox and Panasonic are offering complementary charging to attendees who can conveniently and securely recharge their mobile devices at one of 40 Brightboxes located throughout the Exhibit Halls, the Creator and Industry floors of the event, as well as Panasonic's booth #318 and the Lumix Lounge.
VidCon attendees can attend sessions, network, check out new products, take meetings and stay on the cutting edge of Online Video, resting assured that their phones are being safely and optimally charged in a station that delivers both physical security and data privacy. Users simply swipe a credit/debit or complimentary card to open an available station chamber, plug in their mobile device or accessory to one of three industry standard charging cords, close the chamber and return later to swipe the same card to retrieve their charged phone.
"Brightbox is delighted, with our partner Panasonic, to offer VidCon fans our secure and interactive mobile device recharging platform," said Billy Gridley, Brightbox CEO. "Together our companies are enabling continuous and empowered social connection via online video and fully charged mobile devices."
VidCon fans, pioneering and visionary technology adopters by nature—many of them millennials—are the first generation to carry and consume large quantities of portable mobile power. Creation and viewing of Online Video has increasingly become a mobile affair, with portable devices used for everything from image capture, editing and manipulation to social media sharing, online distribution and viewing.
Panasonic and Brightbox are partnering to deliver secure and accessible power solutions that address the growing "Power Gap", which arises from obvious battery technology limits, and the voracious demands of consumers for universal and accessible mobile power for smartphones, HD cameras and the widening array of cool portable and wearable electronic devices.
"New video apps such as Periscope, that transmit live from the show floor, drain batteries at a fairly fast rate, and waiting in line for 2 hours to get in to see a speaker can kill a battery if you're surfing, texting, tweeting and staying connected," says Joel Martin, Brightbox VP of Brands and Experiential. "Attendees don't have time to sit anchored to a floor outlet, waiting indefinitely for their device to charge, ultimately missing all the action when the biggest names in Online Video arrive to sit on a panel. With Brightbox, they can get and stay charged throughout the convention center, whenever they need to, and not miss a moment when it counts the most."
Brightbox kiosks are increasingly favored by retail, restaurants, stadiums, theme parks, and other major public venues as well as the experiential events industry, as much for their stylish looks, customized branding, robust digital signage and interactivity applications as their proven safety, charging speed and unrivaled security. The Brightbox® Mark3 features a 10" interactive touch screen, with messaging capabilities that provide effective delivery of direct sponsor videos, slideshows, surveys, customer acquisition, brand offers and product promotions. Venues and experiential marketers can leverage intimate and seamless interactions between consumers and the Brightbox charging kiosk, choosing how to project brand image via an innovative menu of content and interactivity options, for high impact and measurable ROI.
Brightbox enables everyone with a mobile device to live life charged and engaged. It provides a great lifestyle product and experience that is a rich opportunity for engagement between connected people, spaces and brands, while facilitating trust in public place amenity secure recharging solutions. The UL and agency certified Brightbox stations are Payment Card Industry (PCI) compliant, employ best-in-class end-to-end encryption to ensure the data integrity of phones being charged, and meet the highest standards for security and safety. They offer retractable charging cables and larger chambers that can accommodate nearly any mobile device, including the latest phablets, while delivering the safest and fastest charge possible at optimized manufacturer recommended rates.
 
About Brightbox
Brightbox® is a B2B kiosk technology company providing venues and users with best-in-class mobile device recharging services and a robust engagement platform for marketing, sponsorship and venue digital signage and interactivity. Founded in 2011, Brightbox delivers advanced and innovative solutions and has deployed its secure recharging kiosks in 3 countries and 24 states in a variety of event and vertical markets that include retail, hospitality, entertainment, healthcare, education, transport and beyond.
Enterprise customers include Dream, Hilton, Hyatt, Omni, Sheraton, Caesars, MGM, Coca-Coca Company, Christie's, Heineken, LA Fitness, Planet Hollywood, RadioShack, Statue of Liberty, Stop'N'Shop, Time Warner Cable, Universal Studios, Westfield Malls, New York Red Bulls, Round Rock Express, Staten Island Yankees, Baystate Health, Mount Sinai Health, Orlando Health, Steward Healthcare, Yale New Haven Health, Columbia University, CUNY, American Airlines and British Airways. Event customers include AOL, BBC Comic-Con, CEDIA, Citibank, Coca-Cola Company, Detroit Grand Prix, Discovery Channel, Event Tech, FISH Technologies, Gartner, GO PUCK, HBO, IBM, IMEX, InCharged, Intel, Major League Baseball, Minor League Baseball, NFL Experience, Pitney Bowes, Octagon SXSW, PCMA, So Cool Events, Samsung, Societe Generale, T-Mobile, UBS, Uber, Verizon, and Wells Fargo. Learn more at http://www.brightboxcharge.com or on Twitter: @brightboxcharge
About Panasonic Corporation of North America
Panasonic Corporation of North America provides a broad line of digital and other electronics products and solutions for consumer, business and industrial use. The company is the principal North American subsidiary of Osaka, Japan-based Panasonic Corporation and the hub of Panasonic's U.S. branding, marketing, sales, service and R&D operations. In Interbrand's 2014 annual "Best Global Green Brands" report, Panasonic ranked number five overall and the top electronics brand in the report. As part of continuing sustainability efforts, Panasonic Corporation of North America relocated its headquarters to a new facility, adjacent to Newark Penn Station in Newark, NJ. It is the first newly constructed office tower in Newark to earn both LEED Platinum and Gold certifications from the U.S. Green Building Council. Learn more about Panasonic at us.panasonic.com/pressroom.