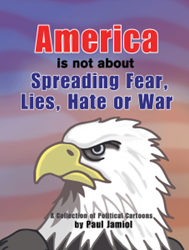 He pulls no punches with his cartoons, taking on unethical CEOs and government officials from the president down to average citizens.
WEST ROXBURY, Mass. –
(PRWEB) July 27, 2015 -- Cartoons can be an effective way to comment on the political, social and cultural scene, thanks to their brevity and engaging images. In his latest collection of political cartoons, newly released by Dog Ear Publishing, cartoonist Paul Jamiol covers the nation and the world from 2011 to 2013. In that time, the United States held a presidential election, continued war efforts in the Middle East and became more divisive than ever.
Almost 200 images are featured in "America is not about Spreading Fear, Lies, Hate or War," covering Jamiol's views on GOP's policies that erode the middle class, foolish – and sometimes dangerous – politicians, the economy, crime, women's rights and war. He pulls no punches with his cartoons, taking on unethical CEOs and government officials, from the president down to average citizens. Even as he addresses what he views as wrongs that need to be righted, Jamiol pays tribute to others: Nelson Mandela, Steve Jobs and the victims of the Sandy Hook massacre.
Dog Ear Publishing reviews this thought-provoking collection of cartoons featuring the bold strokes of Jamiol. "Leaving no stone unturned in the political arena, Paul addresses with precision what he believes to be errors our esteemed leaders and politicians have made in foreign and domestic affairs," former news editor Susan Hershey writes in the book's foreword. "Kudos go to Paul Jamiol for his courage in so poignantly defining what he believes a just society should be."
Paul Jamiol, a cartoonist and illustrator for 45 years, has been recognized for his work locally, around the nation and around the globe. Jamiol provides commentary on issues via his website, jamiolsworld.com, updating it with new political cartoons every week since September 2000. He has written and illustrated four children's books and is working on a fifth. He also published another book of cartoons, "Paul Jamiol's World – 2008 to 2010 – a Collection of Political Cartoons from the Pen of Paul Jamiol." He and his wife Linda live in the suburbs of Boston.
----------
For additional information, please visit http://www.pauljamiol.com.
America Is Not About Spreading Fear, Lies, Hate or War
Paul Jamiol
Dog Ear Publishing
ISBN: 978-1-4575-3825-4 60 pages $16.95 US
Available at Ingram, Amazon.com, Barnes & Noble and fine bookstores everywhere.
About Dog Ear Publishing, LLC
Dog Ear Publishing offers completely customized self-publishing services for independent authors. We provide cost-effective, fast, and highly profitable services to publish and distribute independently published books. Our book publishing and distribution services reach worldwide. Dog Ear authors retain all rights and complete creative control throughout the entire self-publishing process. Dog Ear Publishing reviews services and other book marketing services are available to connect great content with interested readers. Self-publishing services are available globally at http://www.dogearpublishing.net and from our offices in Indianapolis.
Dog Ear Publishing – self-publishing that actually makes sense.