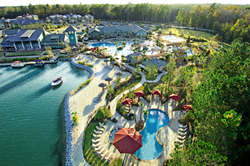 Top Places to Live and Play in South Carolina
Hilton Head, South Carolina (PRWEB) July 27, 2015
Baby Boomers' obsession with fitness and fun continues to fuel today's marathons, triathlons and endurance racing. While tough races like these are not for everyone, it doesn't mean we have to miss out on the fun. Communities across America are bringing 5K's, 10K's and walking events into their neighborhoods to promote wellbeing, raise money for charities and reward racers with an 'after party'. In the heart of the Lowcountry, one of the prettiest fresh water lake neighborhoods is doing it again. Hampton Lake's Annual Tiger Bass Race is set to take place on September 19, 2015, in Bluffton South Carolina and everyone is invited.
Now celebrating its 8th year, this event puts the 'fun' in fundraiser. Over the past seven years, the race has evolved to include several levels of participation. In 2008, Hampton Lake Tiger Bass was a 5K Run/Walk. The following year it expanded to include a One Mile Fun Run/Walk. In 2012, the 12K run was added offering runners a chance to compete on beautiful nature trails in Hampton Lake SC showcasing some of the most beautiful Bluffton SC real estate.
The 12K provides a scenic route that includes the lake trails over the long bridges through the preserve and along the lake finishing back at the Amenities Center. Here, runners get a birds-eye view of homes of all styles surrounding its sparkling fresh water lakes. Hampton Lake is where love for the outdoors is a way of life. Neighbors quickly become lifelong friends thanks to the limitless social and recreational opportunities behind the gates. Southern kindness is just one of the reasons the Lowcountry is one of the top places to live in South Carolina.
It takes a village to pull off such a huge event. Months of preparation and more than 70 volunteers within the community help staff the race open to the public. That's because it is much more than a charity race. It is a day for family, fitness, fun and philanthropy. Last year, more than 350 runners participated. This year, organizers anticipate more than 500 runners. In 2014, fundraising efforts resulted in $15,000 for a Bluffton Self Help, a local charity. This year's goal is $25,000.
There are many reasons to join in the race. Top finishers will receive awards by age group including Bobblehead awards for 1st place finishers and medals for 2nd and 3rd places. The overall top finishing male and female will receive a commemorative award. Overall top finishing Active Military will also receive a Bobblehead award for 1st place and medals for 2nd & 3rd places. Runners and Walkers of All Ages are welcome to participate. Active duty and Military spouses will receive military discounts.
This year, the Tiger Bass Race Committee selected two local charities to be the recipients of this year's fundraiser – Volunteers in Medicine and Bluffton Self Help. The Bluffton/Jasper Volunteers in Medicine is made up of volunteer doctors, nurses and allied health professionals who provide care to area residents without medical insurance. The Bluffton Self Help Mission helps Bluffton-area residents in critical need of short-term financial assistance, food and clothing, while supporting them to become more self-reliant.
It's this sense of community in the heart of the Lowcountry that makes Bluffton one of the best places to live in South Carolina. When it comes to well designed Bluffton SC real estate developments, Hampton Lake has it all -- luxury homes, charming cottages, spacious carriage homes and much more. Running the Tiger Bass Race is a great reason to give back to the community and explore Hampton Lake up close.
Contact Hampton Lake direct at 866.875.5253 to check on Discovery Package availability and to register for the event.
About Real Estate Scorecard:
Real Estate Scorecard writes unbiased real estate reviews providing in-depth information about popular gated communities in Florida, Georgia, the Carolinas, Tennessee and Central America, all in an effort to help people discover where to retire in the South.
Website: http://realestatescorecard.com