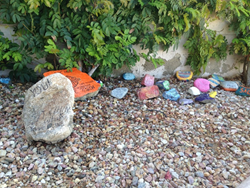 It's a process of letting go and experiencing the grief. They also are saying goodbye to a lifestyle that they have become accustomed to.
CATHERAL CITY, California (PRWEB) July 30, 2015
In a meaningful ritual intended to symbolize a final farewell to the chaos of substance abuse, clients at Serenity Palms Drug Addiction Treatment Center have created an addiction graveyard. Sharing this with the public comes at a unique time, as Palm Springs just lost one of its most beloved residents, Rocky Hudson. Hudson (1945-2015) fell in love with the desert when he moved from Redondo Beach to Palm Springs. During his time there, he was an avid speaker at Alcoholics Anonymous (AA) meetings. Serenity Palms honors Hudson's legacy and the philosophy of living and dying sober. The power in living and dying sober is echoed in Serenity Palms "Addiction Graveyard," where addiction dies while the recovering addict goes on to live a sober life.
In a funeral ritual, they bury their addictions by writing eulogies to the wreckage of their pasts and then add decorative rocks as headstones. The rocks bear messages meaningful to each individual client and serve as reminders of leaving the past behind. The collection of various sizes of rocks creates a rainbow of colors in what otherwise can be a barren desert landscape, creating another layer of symbolism of light and hope. Clients paint their rocks with personal designs, such as a key or flower or sunburst. They add quotations and personal messages to share a part of their recovery story. Ceremonies at the addiction graveyard take place at the end of residential treatment, which is a rigorous therapeutic process of coming to grips with addiction and the toll it has taken on the lives of clients and their family members.
"Not only is it important for our clients to say goodbye to the past and keep their eyes on what lies ahead, it also is significant for them to have a visual reminder that the past is gone," said Jim Gray, founder of Serenity Palms. "We encourage anyone who is recovering from addiction to live one day at a time in the present and to look forward to the future with hope. At the addiction graveyard, they are reminded that others have gone before and have paved the way. When they add their rocks to the graveyard, they add their stories to the communal story. It's significant and meaningful."
Drug and alcohol addiction treatment at Serenity Palms helps clients and their families understand that recovery is a grieving process in many ways. Individual and group therapy often uncovers painful incidents in the past that have never been resolved because drugs and alcohol have repressed the memories and emotions. Clients discover unresolved conflicts and negative thinking patterns that have led to their substance abuse.
"When the feelings arise, clients face them without numbing themselves," Gray said. "They learn to deal with fears and regrets. It's a process of letting go and experiencing the grief. They also are saying goodbye to a lifestyle that they have become accustomed to. They are afraid of losing friends and relationships. There is a lot of grieving in the work of recovery, so the graveyard is an appropriate symbol."
About Serenity Palms:
Serenity Palms is one of three drug and alcohol addiction treatment centers in the United States and Canada that are part of the iRecover franchise, a highly successful program using iPad technology to enhance the recovery experience of participants. Serenity Palms, along with Serenity Ranch in Alberta, Canada, and Serenity on the Rock in Newfoundland, Canada, offer the same treatment philosophy. Four- and eight-week residential treatment at Serenity Palms involves 12-step recovery, family participation and various therapies specifically designed to meet individual needs. The use of iPads allows clients to access educational materials and resources at any time. Serenity Palms, located in Cathedral City, California, offers comfortable accommodations with a resort feel. Additional information can be found at http://serenitypalms.net.