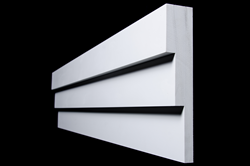 "Our new custom-assembled Rake Boards are about saving time, saving labor and maintaining quality for the high-end residential construction professionals," stated Versatex CEO John Pace
Pittsburgh, PA (PRWEB) July 28, 2015
Residential builders and renovators can eliminate the hassle of on-site rake board assembly with a new custom fabrication service from Versatex Building Products, LLC.
"This is about saving time, saving labor and maintaining quality for the high-end residential construction professionals who already rely on our VERSATEX PVC trimboards," Versatex CEO John Pace said today.
It's an easy-to-use fabrication service that produces rake boards to order in any width or profile, in two- or three-step configurations, made from 1x and 5/4x cellular PVC boards.
"Contractors told us they want the convenience and flexibility of custom-built rake boards. And they said they need rigid, stable assemblies made from solid, full-thickness PVC — not hollow extruded profiles." said Rick Kapres, Versatex Sales and Marketing Vice President. "That's why this summer we've added the capacity to fabricate rake board assemblies to match your exact specification. We developed a process that combines stainless-steel fasteners and a premium PVC adhesive to assure strong, permanent bonds between the components."
"While some manufacturers offer only one ready-made profile," Mr. Kapres said, "the beauty of our service is that you can order any configuration you can think of. Just send us a drawing, and we'll take it from there."
Versatex rake board assemblies can be purchased in custom lengths to minimize waste.
About VERSATEX
Weather-resistant, long-lasting VERSATEX trim materials and systems are manufactured by Versatex Building Products, LLC (fka Wolfpac Technologies, Inc.), of Pittsburgh, Pa., where state-of-the-art facilities produce cellular PVC extrusion products such as VERSATEX trimboards, sheet, bead board, moldings and prefabricated corners — as well as the innovative VERSATEX soffit system and the new, dimensionally compatible VERSATEX Max nominal 2-by boards. Details are posted at http://www.versatex.com.