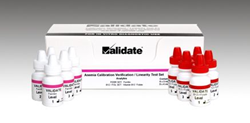 Cumberland, Maine (PRWEB) July 26, 2015
Maine Standards Company, LLC is pleased to announce the release of its VALIDATE® ANEMIA calibration verification / linearity test kit. The VALIDATE® ANEMIA kit contains Ferritin, Folate, and Vitamin B12 in a human-serum base matrix. Each VALIDATE® ANEMIA kit is prepared using the CLSI recommended "equal delta" method for linearity testing and is liquid, ready-to-use. Simply add the product from the dropper bottle directly into a sample cup and run as a patient sample in duplicate or triplicate.
Release of this product will allow clinical laboratories to complete their required Ferritin, Folate, Vitamin B12 calibration verification / linearity testing and maximize the reportable range while minimizing manual dilutions. The addition of VALIDATE® ANEMIA to the Maine Standards Company portfolio of products demonstrates a continued commitment to manufacture calibration verification / linearity products that meet industry needs.
Maine Standards Company's MSDRx® data reduction software is available at no charge for real time data analysis or, in the United States, a laboratory can send their data to Maine Standards Company where a technical specialist will complete the data analysis and return a report within five business days.
###
About Maine Standards Company
Maine Standards Company is located in Cumberland Foreside, Maine and manufactures VALIDATE® calibration verification / linearity test kits for over eighty analytes, including General Chemistries, Urine Chemistries, Enzymes, Lipids, Therapeutic Drugs, Cardiac Markers, Thyroids, Serum Proteins, Vitamin D, Prostate Specific Antigen, and Anemia. Personnel at Maine Standards Company are dedicated to providing the highest quality materials and the best customer service in the industry. Maine Standards Company's goal is to help clinical laboratories easily validate and maximize reportable ranges while minimizing manual dilutions. The Quality System for Maine Standards Company is registered to ISO 13485:2003. For further information, please visit: http://www.mainestandards.com
Contact: Maine Standards Company
1-800-377-9684
aciccomancini(at)mainestandards(dot)com