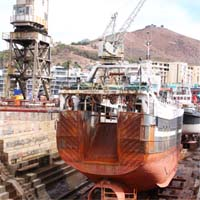 Overall cancer, esophagus cancer, and trachea, bronchus, and lung cancer were seen...with asbestos exposure.
Raleigh, NC (PRWEB) July 28, 2015
A new Taiwanese study suggests that mesothelioma and others cancers are more common in shipbreaking workers than they are in the general population. Surviving Mesothelioma has just posted an article detailing the study's findings. Click here to read it now.
Researchers at Taiwan's National Health Research Institutes and three Taiwanese universities evaluated the health records of more than 4,000 shipbreaking workers from 1985 to 2008. They found not only a higher lifetime risk of mesothelioma but other cancers, as well.
"Overall cancer, esophagus cancer, and trachea, bronchus, and lung cancer were seen in a dose-dependent relationship with asbestos exposure," reports study author Wei-Te Wu of the National Institute of Environmental Health Sciences.
The article, published in the online medical journal PLoS One, suggested that at-risk workers be closely monitored for signs of cancers like mesothelioma.
"Although this study focuses on shipbreaking workers, it carries a sobering message for anyone with a history of asbestos exposure that mesothelioma may not be their only cancer threat," says Alex Strauss, Managing Editor of Surviving Mesothelioma.
To better understand the study and its findings, see Mesothelioma Not the Only Cancer Threat for Shipbreakers, now available on the Surviving Mesothelioma website.
Source: Wu, WT et al, "Cancer Attributable to Asbestos Exposure in Shipbreaking Workers: A Matched-Cohort Study", July 20, 2015, PLoS One, http://journals.plos.org/plosone/article?id=10.1371/journal.pone.0133128
For nearly ten years, Surviving Mesothelioma has brought readers the most important and ground-breaking news on the causes, diagnosis and treatment of mesothelioma. All Surviving Mesothelioma news is gathered and reported directly from the peer-reviewed medical literature. Written for patients and their loved ones, Surviving Mesothelioma news helps families make more informed decisions.