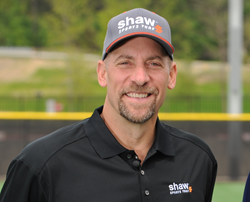 Baseball is a purist's game. That's why it's so important for synthetic turf fields to look and play like natural grass fields. That's why I worked with the R&D team at Shaw Sports Turf to develop the TruHop system
Cooperstown, NY (PRWEB) July 27, 2015
Shaw Sports Turf partner and former Atlanta Braves pitcher, John Smoltz, was inducted into the Baseball Hall of Fame on Sunday.
Smoltz, best known as part of a dominating pitching rotation which included fellow Hall-of-Famers Greg Maddux and Tom Glavine, had a career which lasted from 1988-2009. During his time in the Major Leagues, he played primarily for the Braves, but also had stints with the Boston Red Sox and St. Louis Cardinals.
Smoltz amassed a record of 213-155, with 154 saves and 3.085 strikeouts. He was an eight-time All-Star and won the National League Cy Young award in 1996, with a record of 24=8. In 1995, Smoltz won a World Series with the Braves. His number, 29, is retired with the Braves.
During his induction on Sunday, mentioned four important points in his career. Those four included his being drafted by the Detroit Tigers, his trade to the Atlanta Braves, a phone call he received from Tommy John, when at 34, Smoltz had had Tommy John surgery and need encouragement, and the phone call he received on January 6th of this year, telling him he'd been selected for the Hall of Fame.
Regarding his success, Smoltz said, "I'm not afraid to fail."
He also thanked many of the people who helped him as a baseball player and as a person. Smoltz also took time to encourage parents and young players to make the game fun and not focus so much on competition. He cited the fact that too many young players burn out too early and suffer injuries that shouldn't be suffered by kids.
As part of his focus on young athletes and the game of baseball, Smoltz worked closely with the R&D team at Shaw Sports Turf to develop the TruHop baseball system.
"Baseball is a purist's game," said Smoltz. "That's why it's so important for synthetic turf fields to look and play like natural grass fields. That's why I worked with the R&D team at Shaw Sports Turf to develop the TruHop system."
Smoltz likened the TruHop system to a five-tool player in baseball. A five-tool player is one who can field, throw, run, hit for average, and hit for power.
In synthetic turf, a five-tool player is a field that has great aesthetics, is always available, provides performance and durability, allows reduced maintenance, and is safe.
The TruHop system can be custom-designed for each individual client in order to accommodate desired performance characteristics.
"We're proud of our association with John Smoltz," said Chuck McClurg, Vice President of Sales at Shaw Sports Turf. "He is very deserving of his induction into the Hall of Fame. He brings the same focus and work ethic he had as a pitcher to his work with us in developing the best synthetic turf system for baseball."