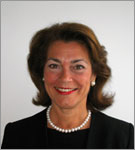 Chicago, IL (PRWEB) July 27, 2015
Linda C. Mack, founder and president of Mack International, the premier retained executive search and human capital/talent management consulting firm serving the family office/family enterprise and wealth management industry, was selected to co-chair the Opal Financial Group 2015 Family Office & Private Wealth Management Forum: The Race for Returns, held July 22 -24 at the Hyatt Regency Newport in Newport, Rhode Island.
The conference is one of Opal's premier Private Wealth Series events for high-net-worth individuals and family offices in North America. Some of the most well-established family offices, private investors, money managers and private wealth service providers attend for three days of engaging discussions on the latest investment trends, as well as a broad range of other issues for current and future generations of families.
Linda Mack co-chaired the Forum with Michael Pompian, Partner and Director of Private Wealth Practice, Mercer, LLC and presented the opening remarks.
The Forum explores the challenges and opportunities associated with investing in emerging markets, alternative investments, real estate and numerous other asset classes. Sessions also addressed many other key issues related to the family office such asset protection, direct investing, non-correlated assets, family succession and sustainability, philanthropy and many more.
In addition to co-chairing the conference, Mack moderated a panel on Wednesday, July 22, titled "What every family should know about luxury travel and the benefits: A lifestyle discussion," with panelists Don Haloburdo, Vice President and General Manager, Jet Aviation Flight Services, and Jonathan Chapman of Northrop & Johnson.
"We discussed trends in the aviation and yacht brokerage industries and specifically, private aircraft and yacht brokerage and chartering. Families are using aircraft and yachts for business as well as a variety of family needs, including multigenerational family meetings, retreats and travel," Mack said.
The panelists also discussed the importance of taking a strategic approach when deciding to purchase or broker an aircraft or yacht. "Panelists stressed that such a significant investment requires having an exit strategy, and they shared key considerations and potential pitfalls to be aware of when making such a decision," Mack continued.
"The panelists also noted how important it is that families work with firms that have the infrastructure, expertise and operational capability to ensure that the aircraft or yacht is professionally managed, and that the potentially varied and intricate logistics involved with a family's itinerary and global travel needs are effectively handled," Mack added.
Opal Financial Group kicked off the conference with its Annual Americas Regatta Cup. Conference attendees had the opportunity to work with a professional sailing charter crew while competing against industry peers.
About Mack International LLC
Mack International is the premier, boutique retained executive search and strategic management/human capital consulting firm, serving national and international clients in the family office, family business enterprise and the wealth management industries. Founded in 2002, the firm has achieved an exceptional track record of success as evidenced by consistent referrals, repeat engagements and long tenures of candidates placed. Founder and President Linda C. Mack has established proprietary methodologies such as the Mack 360© and is credited for having coined the term "expert generalist" in the industry. For more information, visit http://www.mackinternational.com or call 800.976.0015.