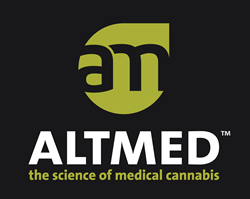 It is AltMed's intention to bring a best in class transdermal patch to the marketplace so patients will know exactly what dosage they are getting.
Sarasota, FL (PRWEB) July 28, 2015
AltMed LLC has announced a significant research initiative by its affiliate, NuTrae, LLC, to develop a transdermal patch capable of delivering a steady, controlled, smoke-free dose of non-psychoactive cannabidiol (CBD) for patients.
This is phase-one research which does not include CBD product. According to David Wright, CEO of AltMed, the objective of the project is to create the most effective delivery mechanism for the non-psychoactive and potentially highly therapeutic CBD for patients in need.
"With medical cannabis coming of age, one of the major challenges patients face is trying to find a reliable method to take their medications with a consistent dosage," said Wright. "It is AltMed's intention to bring a best in class transdermal patch to the marketplace so patients will know exactly what dosage they are getting."
Dr. Chris Witowski, AltMed's director of laboratory and processing services, has been named project director. Witowski will lead AltMed's research at the Center of Excellence for Drug Discovery and Innovation (CDDI), utilizing facilities and processes used by pharmaceutical companies to develop new medications for clinical use.
Witowski specializes in the natural products field, including botanical and microbial drug screenings, working toward the discovery of new therapeutic treatments. Prior to joining AltMed, he conducted much of his doctoral research at CDDI.
"My work at CDDI included supervising drug discovery screenings of marine organisms where we analyzed compounds to discover potential cancer therapies, antibiotics, and other anti-infective drugs," said Witowski. "This experience is invaluable because similar principles apply as we work to create the most effective methods to deliver the medicinal benefits of the cannabis plant to patients."
CDDI assists research groups in overcoming some of the critical bottlenecks in early phase drug discovery and will provide AltMed with access to specialized equipment. This phase-one research project will focus solely on developing the most effective delivery mechanism vital for development of a transdermal patch intended to maximize skin penetration and therapeutic benefit.
After its research at CDDI, AltMed will conduct a separate phase-2 of research in a jurisdiction where CBD research is permitted, in order to test the transdermal patch with CBD present.
About AltMed LLC
AltMed is a fully integrated company that will bring pharmaceutical industry precision to the development, production and dispensing of medical cannabis. Established in early 2014 by a consortium of Sarasota, FL residents, AltMed's Executive Chairman and its CEO are both former senior pharmaceutical executives.
Forward-Looking Statements
To the extent any statements made in this press release contain information that is not historical, these statements are forward-looking in nature and merely express our beliefs, expectations or opinions. For example, words such as "may," "should," "estimates," "predicts," "continues," "believes," "anticipates," "plans," "expects," "intends," "potential," "strategy" and similar expressions are intended to identify forward-looking statements. Such statements are based on current expectations or estimates and involve a number of known and unknown risks and uncertainties that could cause our actual results, performance or achievements to be materially different from the results, performance or achievements expressed or implied by such forward-looking statements. Factors that could cause or contribute to these differences include, but are not limited to, the following: (i) our ability to implement our business strategy of dispensing high quality cannabis products where permissible under applicable law; (ii) the legalization of cannabis production and use by the federal government; (iii) availability and cost of additional capital; (iv) our ability to attract, retain and motivate qualified employees and management; (v) the impact of federal, state or local government regulations; (vi) competition in the cannabis industry; (vii) our ability to generate revenues; and (viii) litigation in connection with our business. All forward-looking statements included in this press release and attributable to us or any person acting on our behalf are qualified by this cautionary statement. Forward-looking statements speak only as of the date on which they are made, and, except as required by law, we undertake no obligation to update or revise any forward-looking statement, regardless of whether new information becomes available, future developments occur or otherwise.