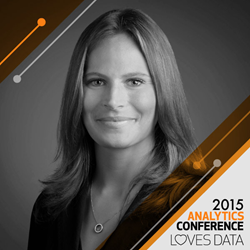 (PRWEB) July 30, 2015
Krista Seiden is a Google Analytics Advocate and regarded as an experienced leader in the digital analytics industry. She was also recently recognised as a 'Rising Star' by the Digital Analytics Association (DAA). At Google, she has been responsible for educating and advocating for digital analytics and optimisation best practices, as well as running the GA Premium training program. Most recently, she has been presenting the GTM Analytics Academy course, but has also worked on various analytics and optimisation practices at companies such as Adobe, The Apollo Group and of course, Google. Krista brings her expertise to the 2015 Analytics Conference to share her experience in building a culture of optimisation.
Also presenting at the conference is Mike Kwong, a Senior Staff Software Engineer working on the Google Analytics backend. Since joining the Google team in 2010, he has worked on a number projects including leading the development of backend pipelines for mobile analytics, enhanced ecommerce, and GA API. Prior to Google, he worked on Eclipse-based development environments and database modelling tools at IBM. For the conference, Mike will dive into how Google Analytics can drive a better understanding of your mobile analytics.
Mike and Krista joins Jim Sterne, the Chairman of the Digital Analytics Association who is presenting this year's keynote speech, and other leading international industry influencers: Simo Ahava (Google Developer Expert; Reaktor), Shana Allen (Twitter), Chris Chapo (Enjoy), Benjamin Mangold (Loves Data), Lea Pica (Consultant, Leapica.com), Chris Samila (Optimizely), Carey Wilkins (Evolytics) and Tim Wilson (Web Analytics Demystified).
About the 2015 Analytics Conference
Back after a sell out event in 2014, the 2015 Analytics Conference is the only event of its kind in Australia. The annual Google Analytics user conference is presented by Loves Data in Sydney and Melbourne, with tickets starting from $575.
Ahead of the conference, Loves Data will present masterclasses designed for attendees looking for a deep dive into either technical or marketing streams. Developers, analysts, and tech-sperts are invited to join the technical stream covering Google Analytics' latest features and supporting tools. Marketers are invited to join the marketing stream to learn innovative ways to pull actionable insights from your data.
Presented by Loves Data, with Google.
Presenting Partner: Internetrix. Endorsed by: Institute of Analytics Professionals of Australia (powered by ADMA).
Sydney
Tuesday, 8 September (Masterclass)
Wednesday, 9 September (Conference)
Australian National Maritime Museum
Melbourne
Thursday, 10 September (Masterclass)
Friday, 11 September (Conference)
Melbourne Convention and Exhibition Centre
See the full program and book tickets at lovesdata.com/conference
For media queries, contact
Dara Vongsonephet
Head of Marketing
dara(AT)lovesdata.com | +61 434 932 499