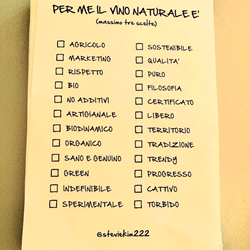 Nobody 'knows' what natural means, but "natural wine" is a nice word
Verona, Italy (PRWEB) July 27, 2015
According to a January 2015 research carried out by Nielsen of 1,000 US wine drinkers, 65 % of 21- 34 year-old respondents are interested in natural wine (Source: BloombergBusiness, 14 May 2015, http://tinyurl.com/o7ep92d). The data reflects a trend that has been building for years based on the importance given by consumers to all that is natural and GMO-free with health factors, in particular, seemingly influencing purchasing decisions especially amongst the new generation.
Natural wine returned to polarise opinion in the wine world as Vinitaly International last week carried out two surveys targeting both Millenials and general consumers at EXPO2015Milano with the aim of better understanding their perception of "natural" when applied to a bottle of wine. The survey came to mind to Stevie Kim as she participated in a debate "Natural or Unnatural wines…" with a panel of experts, including producers Angelo Gaja, Walter Massa and, organizer, Oscar Farinetti.
Although the general view on natural wines among experts is mostly sceptical, the recent survey carried out by Vinitaly International showed that consumers don't seem to share the same opinion displaying, on the whole, a positive perception of this new type of wine: the first of the two surveys was distributed among the 125 attendees of the debate "Natural or Unnatural wines…" organized by Eataly and the Italian Pavilion at Expo 2015. The second targeted 128 Italian Millennials aged 21 – 34 who were asked to select three of the 24 possible different words associated with the concept of "natural" wine. The results were quite surprising and pretty similar: "healthy", "quality" and "no additives" were the absolute top choices, immediately followed by "sustainable", "territory" and "tradition". Only a limited number of participants attributed a negative connotation to the word "natural" classifying it as "bad" or associating it with mere marketing and commercial purposes.
The topic is somewhat familiar to Stevie Kim, Managing Director of Vinitaly International, as earlier this year she moderated a panel of experts to bring some order to the wild frontier of artisanal wines tackling unanswered questions and main issues such as cultivation methods, the inclusion of additives during production processes and the definition of natural wine as a sign of quality.
One of the main causes behind the controversy is the actual absence of a clear definition of "natural" wine: "it is a moving concept, rather a tendency, that is based upon our perceptions and anxieties about the environment and our lifestyle, and can result, or not, in different wines and new marketing messages" Pedro Ballesteros Torres, MW, Decanter WWA Panel co-Chair, had explained during the panel back in March.
"It's amazing how a word can convey so many different meanings, some of them not necessarily related to natural wines" said Mr Ballesteros when asked to comment the results of the survey. "This is no doubt consequence of the vague definition of these wines. They are not necessarily healthier than conventional ones (the possibility of generating biogenic amines is higher), or of higher quality. Maybe more sustainable, although this depends on many circumstances: a local conventional wine drank in its town is probably more sustainable than a natural wine coming from the other end of the world. And they should not have any additive, but indeed some natural wines have. For instance all natural wines aged in oak have aromas and tannins from the wood."
Robert Joseph, founder of Wine International Magazine and the London International Wine Challenge, and Monty Waldin, Regional Co-Chairman for Italy of the Decanter World Wine Awards who both spoke at the panel during Vinitaly, voiced the same opinion stating that many natural wine producers use both sulphur dioxide and copper, hence ruling out the possibility of being considered either "sustainable" or "without additives."
As to healthy, "well no" says Monty Waldin, "because if you drink too much wine, whether organic, natural, conventional or else, you risk your health anyway."
"I'm really not surprised about these results" Robert Joseph goes on to say. "Nobody 'knows' what natural means, but "natural wine" is a nice word, which is why it is so widely used by industrial food manufacturers." And which is probably why it seems to be so popular among the new generations.
"Hey I've got an idea" concludes Stevie Kim "In light of the alarming decrease in wine consumption in Italy, especially among the Millenials who tend to consider wine as something old or outdated, all this might sound like good news: why not leverage this new interest in natural wine and its positive health connotation in order to make it more modern and trendy and hence a worthy substitute to beer and cocktails? But can we please please define what a Natural Wine is supposed to be?"
About:
Veronafiere is the leading organizer of trade shows in Italy including Vinitaly (http://www.vinitaly.com), the largest wine and spirits fair in the world. During its 49th edition Vinitaly counted some 4.000 exhibitors on a 100.000 square meter area and 150.000 visitors including 2.600 journalists from 46 different countries. The next edition of the fair will take place on 10 - 13 April 2016. The premier event to Vinitaly, OperaWine (http://www.vinitalyinternational.com) "Finest Italian Wines: 100 Great Producers," will unite international wine professionals on April 9th in the heart of Verona, offering them the unique opportunity to discover and taste the wines of the 100 Best Italian Producers, as selected by Wine Spectator. Since 1998 Vinitaly International travels to several countries such as Russia, China, USA and Hong Kong thanks to its strategic arm abroad, Vinitaly International. In February 2014 Vinitaly International launched an educational project, the Vinitaly International Academy (VIA) with the aim of divulging and broadcasting the excellence and diversity of Italian wine around the globe. VIA has now also organized its very first Certification Course with the aim of creating new Ambassadors of Italian Wine in the World.
###