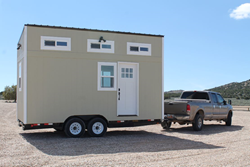 The Tiny House Movement is Getting More Bigger Than What Others Expect.
Cedar City, UT (PRWEB) July 28, 2015
There are few investments a person or couple will make in their lifetimes as large, or as important, as their buying a home. Traditionally this has been seen as something where "bigger is better", but recently a different approach has picked up momentum, the Tiny Homes movement. A tiny house is a very small, but functional, inexpensive home with all the minimal necessities, and minus unneeded space and extravagance. Tiny home builders, like Upper Valley Tiny Homes, are reporting that more people are buying tiny houses and celebrating the lifestyle that surrounds them than ever.
"There's no doubt that the idea of how much space a person or family needs to be happy living in is shifting every day," commented a spokesperson from Upper Valley Tiny Homes. "We're building more wonderful tiny houses than ever, and the feedback we get from our customers months later is always fantastic. It's hard not to be excited about the tiny homes movement and what it means for a more sustainable, positive way to live."
According to Upper Valley Tiny Homes, most clients point to three key reasons why they have left the idea of conventional, traditional homes behind.
The first is it opens up home owning to a great many more people. Having a tiny house, for an increasing number of people, is much preferable to paying expensive rent or, worse, being stuck in debt for a mortgage for 30 years under the heel of a bank loan.
The second common reason for living in tiny houses is how efficient they are. More and more people are saying "no" to having piles of things they don't need or even want. The tiny home removes these things very effectively. There's no room for fat. What's there is what's needed.
Finally, mobility. Most tiny homes can be moved quite easily. This is far from the case with conventional homes, which lock a person or family to one location, potentially, for decades unless they go through the ordeal of selling their conventional home. With a tiny house moving is simple and relatively inexpensive.
With the stage set for the popularity of tiny houses to only continue to rise, it's likely a movement more people will explore and enjoy. The future may well be a tiny, comfortable and personal one.
For more information be sure to visit http://www.uppervalleytinyhomes.com.