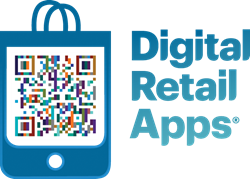 We've researched many players in the mobile payments space and believe Digital Retail Apps is the leader in this category...
San Francisco, CA (PRWEB) August 10, 2015
Digital Retail Apps, the startup company behind the award-winning shopping and self-checkout solution SelfPay, today announced it has raised a total of $1,000,000 CAD in funding. The most recent round was led by Texas Ventures and includes additional capital from U.S. angel investors. Former rounds were sourced from founder capital and friends and family investors.
SelfPay saves shoppers time by skipping the checkout line and allowing them to use their own smart phone to scan in-store items, build a shopping cart and pay in-app using a variety of supported payment methods, such as credit/debit cards, Apple Pay, PayPal and others. SelfPay integrates with retailers' payments and POS systems acting as the interface layer between the shopper and their critical back end processes, which drives brick and mortar commerce. Digital Retail Apps has built a strong partner pool that includes industry leaders in payments, POS and retail solutions.
"We've researched many players in the mobile payments space and believe Digital Retail Apps is the leader in this category. Digital Retail Apps' value is further enhanced by the strength of their IP portfolio including their issued and pending patents, in the United States and other countries, which will help make in-app payments very attractive to brick and mortar merchants," said Scott Crist, CEO, Texas Ventures. "Additionally, their partnership-based approach brings many parties together to create a consistent shopping flow across retailers, payment processors and payment types. We look forward to being a part of this retail transformation."
"We are seeing more and more retailers shift their focus to an app-based payments model, which eliminates the checkout line, as opposed to a tap and pay model," said Wendy MacKinnon Keith, CEO and founder, Digital Retail Apps. "App and pay is much more convenient to the shopper because it saves them time - they don't have to wait in line to pay. Choice in payments and POS is very important and this is exactly why we built a solution that integrates directly to a retailer's POS system and offers a choice in payment methods. We provide the natural evolution of the existing POS and payments ecosystem by extending it to consumers' mobile devices, making shopping and paying effortless."
With the move to EMV this year, an app and pay model has the ability to leap frog over this technology which is sure to add even more time to the payment process and relies on single purpose proprietary payment acceptance devices.
Digital Retail Apps is in early discussions with chain retailers in the U.S., Europe. and Canada to make SelfPay more widely available. Since launch, SelfPay has shown promising results with shopper basket size increases of up to 17% and retail labor cost savings in excess of 30%. SelfPay provides retailers with a patented loss prevention tool ensuring payment of all items before shoppers leave the store.
About Digital Retail Apps
Digital Retail Apps, a private company with offices in Toronto and San Francisco, is focused on providing retail shoppers with a completely seamless shopping and payment experience. The company's flagship mobile solution, SelfPay, improves brick and mortar retail by giving shoppers the ability to shop and pay from anywhere in-store directly on their own mobile device and skip the checkout line. SelfPay integrates directly with the retailer's own POS and payments processing back end and includes access to a patented purchase verification method. This ensures that all items have been paid for before shoppers leave the store. SelfPay can be deployed as a customizable white label app for a single retailer or as a multi-retailer app for mall operators. SelfPay technology can also be licensed and inserted into an existing shopping app to extend its functionality. Finally, retailers can make shopping more convenient and gain access to more shoppers by participating in SelfPay's multi-retailer self-checkout solution – one app that works everywhere -- making it even easier for shoppers. SelfPay builds loyalty, conversion and basket size, with less labor for increased sales, higher operating margins and extraordinary ROI for retailers. For more information, visit http://www.digitalretailapps.com and @digitalretail
Wendy MacKinnon Keith, inventor of SelfPay, is the CEO and Founder of Digital Retail Apps. She previously consulted to Fortune 100 companies with The MAC Group/Gemini Consulting and other firms.
About Texas Ventures
Texas Ventures is a private equity and venture capital firm with expertise in structured finance, capital markets and technology. The firm's investment approach is to identify emerging trends within business and consumer services, communications, Internet, media and software sectors prior to recognition by the broader marketplace, and to take a proactive approach in working with management to build world-class companies.
Texas Ventures is led by Scott Crist. Prior to founding Texas Ventures, Crist was a managing director at Garage Tech Ventures in Silicon Valley. Prior to that, he was a successful entrepreneur, including CEO and founder of two technology companies and grew revenues to over $100 million each in the last decade.