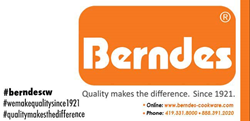 Quality makes the difference. Since 1921.
Lima, OH (PRWEB) July 31, 2015
Berndes founded in 1921 in Arnsberg, Germany ambitiously set about advancing the state of the art in cookware. Berndes was the first company to successfully produce a non-stick coating for aluminum cookware. This made it possible to harness the material's multiple benefits of low weight, high stability and excellent heat conductivity - in producing pots and pans. Berndes continues to strive for improvement of Berndes cookware and to live up the legacy of the company founder and region.
The purpose of Berndes gourmet cookware is not only to engage and inspire professional chefs but designed to empower the classic cook of a different type and style of cooking. Berndes wants to provide an exceptional cooking experience every time but to enhance results and to emphasize on low-fat cooking while benefiting the exceptionally easy to clean cookware.
Through brand awareness Berndes Cookware USA shares its focus by distinguished hashtags such as: #wemakequalitysince1921, #qualitymakesthedifference and #berndescw. Berndes Cookware USA wants to take a trending brand and connect with consumers to make the difference in cooking. By searching the trending hashtag phrases consumers will be able to find what's trending with Berndes Cookware.
About Berndes
Berndes has developed produced and distributed cookware since 1921 and is the largest pan manufacturer in Germany, as well as the world-marketing leader in nonstick coating cookware made of cast aluminum. The high quality, award-winning range made of cast aluminum, spun aluminum and stainless steel is exported worldwide and has been distributed through qualified channels for decades.
With a marketing strategy that focuses on people with an affinity for cooking and appeals to the emotions, Berndes is set for success. As has always been the case, production is carried out at the company headquarters in Arnsberg, Germany. These processes only use materials that do not affect the environment, resources or health. The in-house test laboratory conducts continual quality controls accompanying production. Neutral test institutions both attest the company's high quality standards repeatedly domestically and abroad.