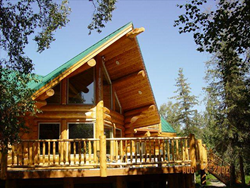 There will be an increase in fishing as people fishing the Kenai river are passionate about it; they will take advantage of any opportunity they can get to do more fishing
Kenai, AK (PRWEB) July 27, 2015
In early June, the Alaska Department of Fish and Game extended the king salmon fishing on the Kenai Peninsula's Anchor River season by four days, and approved the use of bait and treble hooks on the Deshka River, according to the Alaska Dispatch News on June 11, 2015.
Bob Standish, owner of Alaskan fishing lodge Bob's Cabin, is optimistic about the early returns on King Salmon in Southcentral Alaska. Although the Kenai River is currently closed to King Salmon fishing due to a predicted poor early run in June, Standish states that anglers on the nearby Kasilof River have been doing much better than expected. There have been some nice catches of both wild and hatchery King Salmon and Standish expects the success to increase even more in the coming days.
"There will be an increase in fishing as people fishing the Kenai river are passionate about it; they will take advantage of any opportunity they can get to do more fishing," said Standish.
As of June 2, the count of king salmons in the river was at 1,826. In comparison: last year, there were only 512 at that time, 75 in 2013, and 672 in 2012. The department manages the river in the hopes of reaching a sustainable escapement goal of between 3,800 and 10,000 kings during the entire summer, according to the Alaska Dispatch News on June 4, 2015.
A few day's before the Anchor River run's historical halfway point of June 13, 4,074 king salmon had been counted. One year earlier, the entire run of king salmon totaled only 2,496, the lowest recorded run on the Anchor river. This continued a trend of low returns, and led to a preseason emergency order earlier this year to close the Anchor River to king fishing on all five Wednesdays and the first and last of the fishery's five weekends.
Fortunately, this year's run is much better. Until it's over, though, it won't be known if it's actually bigger than recent ones.
"This run has been great for king salmon with plenty of fish over the past two weeks," said Standish.
About Bob's Cabin
Bob's Cabin, a Riverside Log Lodge located next to the famed Kenai River, helps visitors discovered the beauty of the Alaskan wilderness. Bob's Cabin offers fishing and lodging vacation packages, secluded cabins, bear viewing experiences, charter trips and more. To learn more, visit http://www.bobscabin.com.