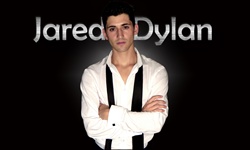 Sometimes the most simple pieces of art are the most beautiful
Miami, Florida (PRWEB) July 28, 2015
Its been three years in the making and Jared Dylan, a full time UM student, has now released the new video for his original song, "Symphony". "Symphony" is the first single off Jared's new EP "The Man Behind The Mask" and has been in the works since Jared stepped foot on the Coral Gables campus of the University of Miami in 2012.
Imagine 17 year old Jared Dylan armed with acceptances to every major college music program he applied to, and invitations to become a cast member of the top reality singing competition shows on television.
Jared had already released his first EP and music video on YouTube which prompted industry referrals to the major networks music shows. Jared would actually forego his high school commencement and opt to take his final exams in a Burbank hotel while rehearsing and filming for the show he committed to.
For weeks, the excitement of living in a hotel, wardrobe, make-up, filming and performing was exciting. But, soon a new reality set in. A prolific songwriter, Jared felt there was so much left for him to learn. Considered by some a singing prodigy, Jared felt like he needed to become a better musician and songwriter. Without much trepidation Jared left Burbank for South Beach and never looked back.
Jared was the only freshman to be invited to perform at Festival Miami and has been each year since. He was the first student from the University of Miami to receive the "BMI John Lennon Scholarship", for his song " In Panic," in more than ten (10) years. But most of all, for the first time Jared was surrounded by world class musicians and composers.
"One of the most important things I learned was to bring my music into the mainstream. Listeners want to be able to sing along and lose themselves in the music." "Symphony documents everything that I have loved about being a Miami Hurricane. It's also a confirmation that sometimes the simplest things can be the most beautiful." - Jared Dylan
Jared fuses his love and knowledge of blues, jazz, and folk, into his pop music compositions.
During his studies, Jared has played shows from Providence, RI to Miami's Tobacco Road. Jared's alternative release in 2012, " Mistakes" also received considerable radio play. He has played at Jungle Island and The Sony Open Tennis Tournament. This summer he has opened for Andy Grammer ("Honey I'm Good" Keep Your Head Up") and " Symphony" is receiving radio play in a few markets.
The new music video is on YouTube and features musicians from The Frost School of Music as Jared's band. It also features the University of Miami campus. A special guest appearance is made by model, Rachel Seeker. Music video production is by Media Boss TV. Symphony is directed by Ian Barrett.