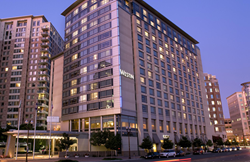 Now is the time for companies looking to host winter events to find the best deals, and secure prime dates for their gatherings," said Tim Bowes, Vice President of Sales for Crescent Hotels & Resorts.
Tysons, VA (PRWEB) July 28, 2015
As much of the Washington, DC area workforce heads out to enjoy their summer vacations, company planners have another task at hand – to organize winter holiday parties. "Now is the time for companies looking to host winter events to find the best deals, and secure prime dates for their gatherings," said Tim Bowes, Vice President of Sales for Crescent Hotels & Resorts, a management company of over 100 hotels (including 16 in the Washington, DC area).
"While we still have some preferred dates available, our phones actually started ringing for holiday parties a few months ago as our clients learned about our multimillion dollar renovation. This renovation included over 10,000 square feet of event space," said Michael Broadhurst, General Manager of The Westin Arlington Gateway. Many companies opt to offer lunch parties, so selecting a venue that is walking distance from their offices is important. The Westin Arlington Gateway is steps from various offices and government agencies.
With the growth of companies in the suburbs, combined with the one year old Silver Line Metrorail, Northern Virginia hotels have seen an uptick in holiday party requests. "Reston is ever-growing and ever-changing, and our two hotels, The Westin Reston Heights and the Sheraton Reston Hotel, have become local favorites for social events of all kinds," said Tim Bailey Complex General Manager for both hotels. "Part of the reason is that we have the ability to suit various holiday party needs. The Sheraton Reston can accommodate events up to 400 guests, and those looking for a more intimate environment can enjoy our private dining room in The Westin's award winning restaurant, Vinifera."
The Metrorail has also sparked additional interest for the Sheraton Tysons Hotel, located steps from one of the new stops. The Sheraton offers a 10,000 square foot ballroom, one of the largest in the Washington, D.C. metro area. The ability to accommodate social functions of over 1,200 guests combined with Metrorail proximity, makes this venue an option for larger functions that would normally consider downtown locations. "We are seeing more and more companies with offices throughout Washington, D.C. and Northern Virginia show interest in our hotel," said hotel General Manager, Mike Chouri. "When it comes to large gala celebrations, companies are less interested in proximity to the corporate offices and focused instead on finding a venue that will give their attendees a memorable experience and work with them to put on an event that showcases their company image. Additionally, many companies prefer a Fairfax location because it tends to be close to where many of their employees live."
Not all those that plan holiday parties are professional meeting planners. Many companies rotate volunteers to head holiday committees to put together annual events. "We understand that not every planner of a holiday event does this for a living, so we take extra care to make the planning process simple for those not familiar with the process." said Bowes. "We even offer a website where event planners may check availability for any or all of our Washington, DC locations online in just a few clicks. Our clients, especially those planning smaller events, find this extremely helpful."
"Because we offer a boutique style hotel, we are the ideal location for small holiday events," said Ryan Cimei, Hyatt Place Washington DC/US Capitol General Manager. The hotel turned a year old last month and is the first Hyatt Place built in downtown Washington, DC. "While we are just entering our second year of operation, we have already received numerous inquiries for event space. With two function rooms, planners know that if they book with us, they will never get lost among other events. Additionally, with a downtown venue with metro access, our location meets the needs of our customers looking for the excitement offered by being in DC."
When asked, what the most overlooked aspect in holiday event planning is, Bowes responded: "Many times those new to planning holiday events simply wait too long to secure a venue for their event. It's easy to not think about the holidays while it's still summer, but sometimes, especially for larger events, waiting until even September can be too late to book a preferred date in December."
ABOUT STAY IN WASHINGTON DC
Stay in Washington DC includes Crescent Hotels & Resorts' hotels located in and around Washington, DC. These properties are internationally recognized brands including, Hilton, Hyatt, Sheraton, Westin, Marriott, IHG, Wingate by Wyndham, Radisson, Cambria hotels & suites and Best Western. Most hotels are in walking distance to a Metrorail or offer complimentary shuttle service that links guests to the city's world renowned Metrorail network. Most locations offer various dining, shopping and entertainment options just minutes away via walking, complimentary shuttle or Metrorail. Several locations offer award winning restaurants right inside the hotels. For more information, visit http://www.stayinwashingtondc.com, like on http://www.facebook.com/StayInWashDC, follow on http://www.twitter.com/stayinwashdc, follow on Instagram, subscribe on YouTube and connect on Google+.
ABOUT CRESCENT HOTELS & RESORTS
Crescent Hotels & Resorts is a nationally recognized, top-5 operator of hotels and resorts. Crescent currently operates over 100 hotels and resorts in 36 states in the US and 4 provinces in Canada. Crescent is one of the few elite management companies approved to operate upper-upscale and luxury hotels under the brand families of Marriott, Hilton, Starwood, Hyatt and IHG. Crescent also operates a collection of legendary independent hotels and resorts. Crescent's clients are made up of hotel REITs, private equity firms and major developers. For more information, please visit http://www.chrco.com.
rw Stayinwashingtondc.com #stayinwashdc