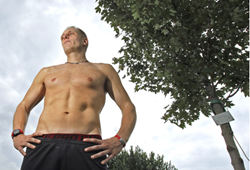 Running is symbolic of life
Crystal Lake, IL (PRWEB) July 28, 2015
For Crystal Lake resident Phil King, running is symbolic of life.
"Just keep putting one foot in front of the other and ... no matter what the weather out there is ... no matter what excuse, no matter what hurts you, just keep going," King said.
On Jan. 8, 2014, King lost his mother, Lisa King, after she took her own life at age 56. Six months later, he also lost a friend to suicide.
That's why he's planned the Run For Lisa King, which will take him on a 4,803-mile, cross-country run to raise suicide awareness and raise money for suicide prevention.
King so far has raised more than $1,000 through the American Foundation for Suicide Prevention and his GoFundMe page.
The 32-year-old will run from Delaware to California. He will leave March 28 and expects to finish running up the Pacific Coast on Oct. 16.
King will be following the northern portion of the American Discovery Trail, the only coast-to-coast nonmotorized trail that is marked the whole way.
Along the way, he plans to stay at the homes of friends and family, and in a camper that a friend who is traveling with King will be driving.
Northwest Herald reporter Hannah Prokop sat down with King to talk about the Run For Lisa King.
Prokop: Why is raising support for suicide prevention important to you and how have you personally been affected by suicide?
King: Losing a mom is, I mean, it's the most difficult thing I've been through. Just the way a mom treats you, like I'll never be looked at that way again, you won't ever be cared about the same way a mom cares about a son. So, I mean, that's just gone forever. Like there's no replacing that.
I seem to have dealt with it better than other people who share similar stories. Like it seems to creep into all parts of their life, and I don't know for me it kind of almost motivated me. Like it made me want to like do something like running across the country, you know, like actually live and get out there and do things that most other people don't get to do.
Prokop: What are you most looking forward to with this run?
King: I'll get to see everything on foot. I get to just really soak it all in. I've never been west of the Mississippi. I grew up on the East Coast, and I've been almost everywhere in between, but I'll just get to see everything, live life like literally just one day at a time.
I'm not gonna have to worry about days in advance. I guess other people would see that as really hard work, but I see that as like a dream situation.
All I have to worry about is getting from point A to point B every day, and that's what I have to do.
I mean, there will be other obligations as far as meeting with the charity chapters across the country and other obligations, but I just don't see that as work at all. That's exactly what I want to do.
Prokop: You mentioned you're meeting with other charities along the way, could you tell me more about that?
King: The American Foundation for Suicide Prevention, I gave them a list of all the towns I'll be going through, and they went and contacted all the chapters across the country.
So I'll meet with them and probably give a 10-minute talk ... just telling my story basically. ... However, people wanna take it after they hear about it is entirely up to them. If they want to be motivated by it, ignore it, whatever, you know, that's up to them. But I would just like as many people as possible to just hear about what I'm doing and why.
Prokop: Is there anything you're concerned about for this trip?
King: I mean, everything. Just what other people think, how it's gonna go, like I know I'm gonna get hurt. There's gonna be some pain, I'm gonna suffer. I mean, I guess I'm kind of looking forward to that, because once you're done with it, it feels really good.
Prokop: How long have you been training for this run and have you done anything like this before?
King: I've always wanted to do something like this ... believe it or not, at one point, I weighed like 200 pounds, and I started running just to lose the weight at first, and I knew the first week that I was doing that that was gonna be something that I was gonna do the rest of my life.
Prokop: What is the message you would like to spread about suicide and suicide prevention as you travel across the country?
King: My personal views on it is just always hope for something better to happen ... You can't close yourself off to the world. I know a lot of people get depressed. I've been there a few times, and it's just easier not to do things when you feel like that, but you give yourself no opportunities for things to get better by just giving up. ... And just get the conversation a little more public because it's always an uncomfortable thing, and what it really comes down to is, every person who ends up doing that, usually has a secret or something they don't think they can tell other people about. ... Just to be a little more understanding and forgiving.