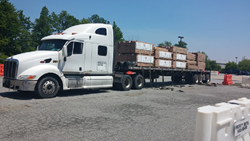 While we are not yet operating at 100%, we've accomplished more than we ever dreamed possible in the two short months since the fire
Conshohocken, PA (PRWEB) July 27, 2015
Philadelphia Floor Store (PFS), the nation's leading hardwood floor supplier, continues to rebuild following a devastating fire on May 17, 2015. The company announced last week that they have resumed on-line ordering and shipping service throughout the continental United States. PFS had been accepting orders via phone and email in the weeks following the fire, and had limited delivery service to the local tri-state area.
"While the fire presented challenges related to our national e-commerce platform, we worked long and hard to overcome those issues and are pleased to once again offer our products and services nationwide," said Mike Glavin, owner and founder of PFS. The flooring distributor is committed to offering the same customer experience as before the fire. "While we are not yet operating at 100%, we've accomplished more than we ever dreamed possible in the two short months since the fire," continued Glavin.
Philadelphia Floor Store has made great strides to rebuild their business including securing temporary warehouse and office space in Delaware County, PA. The company is currently conducting a site search for a new location, and is committed to becoming bigger, better and stronger than ever.
To order hardwood floor supplies visit phillyfloor.com or call 800-737-1786. Counter service is currently suspended until PFS secures a permanent location.
For additional information and updates on the Philly Floor rebuild, visit the company's Blog, Twitter, and Facebook accounts.
About Philadelphia Floor Store
PFS is a leading provider of unfinished and prefinished hardwood flooring and accessories including stains, finishes, abrasives, flooring tools, and sanding equipment. Family owned and operated, PFS has been serving hardwood flooring contractors for more than 20 years and provides the expertise needed to install and maintain hardwood floors. The company offers all the top name manufactures including, Aacer, Century, Norton, Lagler, 3M, Clarke, Bona, Basic, Primatech, Bostick, and more.
The company's in-house resources include a top-ranked Machine Repair Center, Rental Center, In-house Chemist, and Gym Floor and Wood Floor Consultants. PFS educates customers via personalized service, online training materials, videos, and free events.
For media inquiries, contact Caran Baxter at caran.baxter(at)phillyfloor.com or call 610-940-5757.