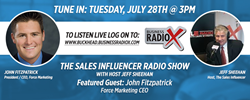 ATLANTA, GEORGIA (PRWEB) July 27, 2015
John Fitzpatrick, CEO & President of tech-enabled multi-channel marketing company Force Marketing, is set to be interviewed on the Sales Influencers Radio Talk Show this week. The weekly show is part of the Buckhead Business Radio network, and is hosted by Jeff Sheehan.
On this week's show, Sheehan and Fitzpatrick will discuss Fitzpatrick's background in sales, as well as the history of Force Marketing and how he has led the company to great success. Topics will also include sales tactics and best practices, sales tools, and the future of sales and marketing.
Under Fitzpatrick's leadership, Force Marketing has grown tremendously since he co-founded it in 2007. It is now among the fastest-growing private companies in the country, having made the Inc. magazine 500|5000 list for six consecutive years. It has also earned a spot on the Atlanta Business Chronicle's Pacesetter Awards list for three years in a row, and Fitzpatrick was highlighted on the Gator 100 list of the fastest-growing businesses in the country that are led by graduates of the University of Florida.
Sheehan is a marketing consultant and thought leader within the sales and marketing industries, and brings his more than 30 years of experience to the radio show. Each week, he interviews prominent individuals within the sales world like Fitzpatrick, many of whom have found great success at well-known companies throughout the metro Atlanta area. The show is broadcast live from the Business Radiox Studio in Buckhead, near Force Marketing's new headquarters.
To learn more, or to listen to this week's Sales Influencers Radio Talk Show featuring Fitzpatrick, visit Buckhead.BusinessRadioX.com
ABOUT FORCE MARKETING
Force Marketing is an innovative automotive multi-channel marketing company headquartered in Atlanta, Ga. The agency offers technology-enabled marketing services to an expansive client base throughout the U.S. and Canada. The company made Inc. magazine's 500|5000 list of the fastest-growing private companies in the U.S. in 2014 for the sixth consecutive year. More information about their superior auto dealership marketing services can be found online at http://www.forcemarketing.com.