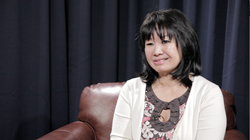 New York, New York (PRWEB) July 29, 2015
Joni Reyes, the June 2015 winner of the Sarder Scholarship, provided by NetCom Learning, the experts in business and technology learning solutions, credits NetCom with getting her back into the workforce. Reyes recently took a Project Management class with NetCom Learning and found that the course gave her needed credentials in the field of IT, helped her update her skills, and boosted her confidence level. Now gainfully employed in the field of IT, Joni Reyes is hoping winning the Sarder Scholarship will allow her to expand on her life goals and become the professional she knows she can be.
"Joni Reyes is focused on gaining the knowledge she needs to move forward in the information technology field," said Russell Sarder, CEO of NetCom Learning and the creator behind the Sarder Scholarship.
"Joni is exactly the type of student we look for when awarding our monthly scholarships. She is ambitious, and she knows what she needs to do to attain her goals," said Sarder.
Joni Reye's background includes jobs in a variety of fields including finance, insurance, and art. Within those disciplines, Joni has worked in operations, accounting, business development and project management. Project management is the area that she has found the most fulfilling and where she sees herself advancing in her career. After taking NetCom Learning training in project management, Joni would like to round out her skills with training in the Microsoft Office Suite of coursework, and then take training in SQL and the Six Sigma. She is excited that the Sarder Scholarship will help her get started on her training goals. Joni Reye is aware of how fast things occur in the field of information technology and knows she needs to continue her training to stay competitive and keep moving forward in her career. Joni calls her NetCom Learning scholarship, "a game changer" in her career and she is excited to continue to pursue her career dreams.
The Sarder Scholarship created by Russell Sarder, CEO of NetCom Learning is offered on a monthly basis and provides $2500 in IT training courses to worthy individuals. The Sarder Scholarship can be used toward most live online classes or traditional classroom training and represents Russell Sarder's dedication to promoting education as a way to change a life. The scholarship is open to individuals of any background or skill level. To find out more about the Sarder Scholarship visit here.
About NetCom Learning
NetCom Learning is an innovative leader in IT, business and executive training to companies, individuals, and government agencies. Since its inception in 1998, NetCom Learning has trained over 71 percent of the Fortune 100, serviced over 50,000 business customers, and advanced the skills of more than 81,000 professionals through hands-on, expert-led training, with the organization maintaining an average instructor evaluation score of 8.6 out of 9. NetCom Learning was recognized by Microsoft Corporation as its Worldwide Training Partner of the Year and named thrice to Inc. Magazine's list of fastest growing private companies in America. The organization was also recently named to the 2012 Top 20 IT Training Companies by TrainingIndustry.com and was named "Company of the Year" by the American Business Awards.
Like us on Facebook
Follow us on LinkedIn
The purpose of NetCom Learning is to promote the values of lifelong learning
For more information on SMART Collaboration Training or other NetCom Learning classes go to here or Call us toll-free at 1-888-563-8266.
Contact:
Marketing Manager
NetCom Learning
20 West 33rd Street
4th Floor
New York, NY 10001
Phone: (212) 629-7265
Fax: (212) 947-5462
marketing(at)netcomlearning.com
NetCom Learning: Passionate about Learning™