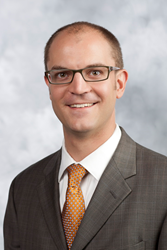 (PRWEB) July 28, 2015
Dr. Steven Bomeli will be bringing minimally invasive thyroid and parathyroid surgery to the Northside Hospital area with the creation of the Advanced Thyroid and Parathyroid Center, a division of Advanced Ear Nose & Throat Associates in North Atlanta. Dr. Bomeli brings a wealth of experience in head and neck surgery from the University of Pittsburgh Medical Center and an additional year of fellowship training in minimally invasive thyroid and parathyroid surgery at Georgia Regents University.
The benefit of minimally invasive surgery is its simplicity. Minimally invasive thyroid surgery is performed through much smaller incisions than a conventional thyroidectomy, utilizing techniques that minimize discomfort and scarring. These techniques allow outpatient thyroid surgery, which expedites a patient's recovery.
Parathyroid surgery formerly entailed a large incision and hours of operating to find diseased glands. Dr. Bomeli utilizes modern techniques that make the operation far simpler and safer than it was just a few years ago. Through this approach, all four glands can be evaluated and any disease glands can be removed. Surgery is the only curative treatment for hyperparathyroidism, and with Dr. Bomeli's cutting-edge expertise, diseased glands are removed with an outpatient surgery.
Dr. Bomeli is accepting new patients at Advanced Ear Nose & Throat Associates of Atlanta, an established practice of leaders in contemporary healthcare.
To schedule an appointment with Dr. Bomeli, call (404) 943-0900 or visit AdvancedENTpc.com.