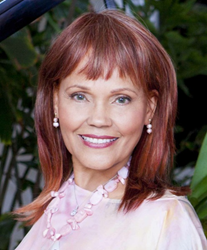 What a joyous experience it is to read the stunning realizations of a true seeker. For that's what Luz Delia truly is. - Ivan Misner, Ph.D, Founder BNI
Dallas, TX (PRWEB) July 29, 2015
Join Luz Delia Gerber and Abbi Ferrin as they share their empowering message to improve Well-Being and healthfulness. Gerber believes that Well-Being begins with understanding how the body actually works. A state of mindfulness allows one to be present and more aware of their state of healthfulness within. Guests will receive tips on how to forge this new relationship with their bodies.
Abi Ferrin has a passion for empowering women, and has been achieving that mission through her clothing line for fourteen years. She created her company to do the two things she loves best: inspire women and dress them up. Ferrin incorporated Gerber's knowledge into her own health practice and credits her for helping to improve her overall clarity and energy.
Together, they will educate women on these life-changing practices and the important message of empowering the body through awareness. The seminar will conclude with pampering and treats, including hair healing by the famous BeverlyD, a selection of healthy food and drinks, essential oils, and more.
Through fun and festivities, Luz Delia hopes to spread her vision: "Transformare el status de existensia!"— to "intentionally invent and transform our environment so that our children's children are born into perfection." Her book is the catalyst for that vision. Ten percent of gross proceeds from books sold at the conference will be donated to Abi Ferrin's foundation to help empower underprivileged and abused women worldwide.
For additional information, please contact:
Tammy Markee-Mayas
(760) 715-8447, tammy(at)luzdeliagerber(dot)com
luzdeliagerber.com
As author of Oh, My Body!: The Undiscovered Miracle of Our Lives, Luz Delia continues to demonstrate her selfless commitment to others and their Well-Being. The results she has witnessed through her educational events, public speaking, and published writing reinforces her belief that true Well-Being brings boundless joy and meaning to life. To learn more about Luz Delia and her new book, go to http://www.LuzDeliaGerber.com/OhMyBody.