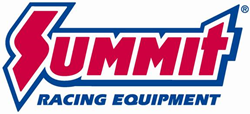 Tallmadge, OH (PRWEB) July 28, 2015
Putting a big engine in a lightweight car is a time-honored hot rodding trick--and that's exactly what Tom Tharp of Tom's Turbo Garage did when he stuffed a Chevrolet Performance 375 horse LS3 engine in a 2004 Mazdaspeed Miata. Summit Racing now offers Project Thunderbolt Parts Combos for to give Miata owners a great head start on building an LS-powered Miata of their own.
Engine and Drivetrain Combo
The basis for the engine swap is a Chevrolet Performance LS376/525 crate engine, backed up with a T56 Magnum six-speed transmission. Tom sourced the Chevrolet Performance accessory drive, engine controller, transmission install kit, and parts from Moroso, Hurst, Innovate, and ACDelco from Summit Racing.
Exhaust Combo
Tom Tharp crafted the entire exhaust system from the headers back using a Summit Racing Rod Builder exhaust kit and X-pipe, MagnaFlow mufflers and Vibrant resonators, and Summit Racing V-clamps and exhaust tips.
Wheels, Tires, and Brakes Combo
Big horsepower needs a good set of wheels and tires to get it to the pavement. Tom Tharp went with a set of 215/45-16 Falken RT-615K tires on 16 x 8 inch Konig Roller wheels. He also added a set of Hawk HPS rear brake pads for some extra stopping power.
Heat and Sound Control Combo
A big V8 engine can generate some serious heat, especially when it's packed in a small engine bay. Tom Tharp insulated the heck out of everything with Heat Shield Products heat sleeving, Thermo-Tec heat barriers and shields, Summit Racing sound deadening mats, and Lizardskin sound and heat control coatings.
Miata-specific conversion parts tare needed to complete this swap. Tom sourced those parts from these companies:

Flyin' Miata: flyinmiata.com
V8 Roadsters: v8roadsters.com
Enthusuasts can see Project Thunderbolt build stories and video posted on Summit Racing's OnAllCylinders blog.
Summit Racing Equipment
http://www.SummitRacing.com
1-800-230-3030