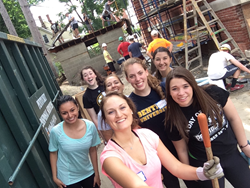 Boston, MA (PRWEB) July 31, 2015
This summer, 40 staff members from the Boston accounting firm of Feeley & Driscoll, P.C. volunteered their time to the Merrimack Valley Habitat for Humanity, marking it the 16th consecutive year that Feeley & Driscoll has partnered with the organization. The Feeley & Driscoll team had the privilege of working at the former St. Patrick Parish Convent in Lawrence, MA. Erected in the early 20th century, the convent once was home to over 30 nuns serving in local parochial schools and hospitals. Habitat for Humanity plans to convert the 16,000 square foot structure into ten condos over the next several years.
The Merrimack Valley Habitat for Humanity is a non-profit organization that builds and rehabilitates homes using volunteer labor and donated materials. In their 30-year existence they have built over 71 homes and rehabbed 11 homes in Lawrence and surrounding communities for people in need of safe, decent, affordable housing.
Feeley & Driscoll, P.C. is a Boston accounting firm employing 120 people with offices in Boston, Massachusetts and Nashua, New Hampshire. For over 40 years, Feeley & Driscoll has focused its expertise to build profitability for its clients in Massachusetts, New Hampshire, Rhode Island, Connecticut, Vermont, Maine and internationally. The firm has provided high-quality assurance, tax and business consulting services to an array of industries, including construction, nonprofit, healthcare, manufacturing and distribution, professional services, architects and engineers, litigation and forensic accounting. For more information regarding the firm's services, please call 1-888-875-9770 or visit http://www.fdcpa.com.