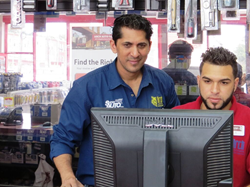 Our customers always need parts fast, so we were ready. During the fire, our back-up systems worked so seamlessly, customers never even knew Arch was servicing them from a nearby location ―while their store manager was in the street managing an emergency.
Brooklyn, NY (PRWEB) July 28, 2015
Arch Auto Parts, a leading aftermarket auto parts supplier in Brooklyn, Queens and Long Island has a recently renovated and updated store that tested successfully in the face of an unexpected emergency. When Ravin Mahabir, Manager of Arch Auto Parts, 3354 Atlantic Ave., Brooklyn, NY, opened the store at 8 a.m. on Saturday, July 11, he noted a faint odor, and assumed it was something outside. Within the hour, he noticed that the recently upgraded IT system was malfunctioning with flashing lights indicating intermittent power, and realized there may be a bigger issue.
Mr. Mahabir alerted Rishi Singh, VP, Arch Auto Parts, who arrived within ten minutes to check the store. They quickly inspected the building, and were alarmed to find a strong smoke smell in the loft storage area, but no sign of fire. When they opened a small basement door, smoke billowed out. With a quick inspection, they realized the smoke was not coming from the water heater in the basement, but that the smoke was actually entering the basement wall where a conduit pipe passed through the area.
Mr. Singh called 911 and could hear the approaching fire engine sirens before he had even completed the call. The New York City Fire Department (FDNY) arrived within three minutes, and confirmed Arch's discovery that there was fire in a nearby location. Noting dangerously high levels of carbon monoxide, FDNY evacuated the Arch Auto Parts store and shut off all power.
The underground, smoking pipe was connected to many other storefronts on the street, so FDNY rushed to evacuate and inspect each building, cutting locks and knocking down doors when necessary, as they searched for the source of the fire. By systematically checking each building on the block, FDNY located the source of the smoke: an electrical fire in the basement of a building several doors down the street. They extinguished the fire, and called in Con Edison to ensure the safety of the electrical network running through the conduit.
Meanwhile, Arch Auto Parts' staff brought in a back-up generator to power fans to blow the toxic fumes and smoke out of the building. Although the store was closed temporarily as a safety precaution, they did not let this unexpected event disrupt business. All calls were forwarded to Arch Auto Parts, 113-19 Atlantic Ave, Richmond Hill, one of the other nine Arch Auto Parts' stores. Arch staff were dispatched immediately to Arch-Richmond Hill, where they continued to fill all orders.
The recently upgraded Arch Auto Parts systems, including telephones, Point of Sale, IT networking, and GPS-enabled dispatch and delivery systems, allowed a seamless transition within the Arch network from one location to another to maintain Arch's commitment to prompt service.
"Arch supplies parts to repair shops―and retail shoppers―on very tight schedules every day," explained Chris Bodh, CEO, Arch Auto Parts. "We had recently upgraded our operational systems to be sure Arch customers always get the parts they need fast, regardless of circumstances. But we never thought we'd have a trial by fire. Our Arch staff did a fantastic job staying focused and flexible. It all worked so seamlessly, many customers never even knew we were servicing them from a nearby location―while their store manager was in the street managing an emergency situation," continued Mr. Bodh.
After the fire was extinguished, FDNY worked with a special team from Con Edison to dislodge a long-sealed manhole cover, and shut down power to the block to ensure safety to the area. After several hours of careful inspection, the team was able to ensure that no fire had spread through the underground electrical conduits, and could restore power to the block, and allow traffic back on the busy street.
Arch Auto Parts, 3354 Atlantic Ave in Brooklyn, reopened and was back in full operation by mid-afternoon. The well-trained staff, and store renovations including new systems, successfully kept business flowing despite the emergency disruption caused by the nearby fire.
About Arch Auto Parts
Founded in 1979, Arch Auto Parts has nine stores in Brooklyn, Queens and Long Island, NY, serving professional repair shops as well as DIY mechanics and auto enthusiasts. Arch Auto Parts delivers unsurpassed customer service and discount prices on a wide selection of high-quality auto parts from Advics, Airtex, Akebono, AP Exhaust, Auto 7, Bosch, Denso, Exide, Fram, Gabriel, Gates, GMB, Mahle, MPA, NGK, NTN, Pex, Raybestos, Standard, Timken, TRW and other trusted brands. Arch Auto Parts also stocks Super Auto parts. Precisely manufactured to meet or exceed OE form, fit and function, Super Auto parts deliver superior performance, reliability and durability at highly competitive prices.
Arch Auto Parts stocks more than 50,000 OE and aftermarket auto parts for domestic and foreign vehicles, including brake pads, drums and rotors; wheel hubs and bearings; motor mounts, chassis and control arms; steering and suspension parts; cabin filters, oil filters, fuel and emission filters and manifolds; sensors and switches; timing belts and water pumps; ignition, alternators and distributors; heating and air conditioning; and hard-to-find car parts such as window regulators and wiper motors. Arch Auto Parts is open seven days a week with experienced countermen dedicated to helping New York customers find exactly the parts they need. For more information, visit us at http://www.ArchAutoParts.com or call 718.657.9600.