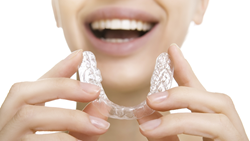 "With its innovative model and ability to meet a real need for our customers, the SmileCareClub Invisible Aligner system is a natural fit for our product line."
Nashville, Tenn. (PRWEB) July 28, 2015
Brookstone®, a nationwide specialty retailer and product developer, has added the SmileCareClub Invisible Aligner System to its online product offerings, giving its customers the opportunity to straighten their teeth for less.
By using a teledentistry model and cloud-based technology, SmileCareClub allows patients to get quality, remote invisible aligner treatment from a state-licensed dental provider for 70 percent less than other brands and without the hassle of in-office visits in most cases.
"Our goal at Brookstone has always been to provide our customers with functional, unique products that help improve their lives," said Sarah Taylor, the eCommerce Wellness Buyer with Brookstone. "With its innovative model and ability to meet a real need for our customers, the SmileCareClub Invisible Aligner System is a natural fit for our product line."
Brookstone will be offering the $95 SmileCareClub Evaluation Kit online at Brookstone.com, which will include everything customers need to take dental impressions at home. These impressions will then be used to fabricate the patient's aligners.
SmileCareClub invisible aligners are BPA-free. The company works with an orthodontic lab to custom-make a series of tight-fitting, clear aligners for each patient that gradually shift their teeth into the desired position.
To learn more about SmileCareClub Invisible Aligner Treatment, visit http://www.SmileCareClub.com.
About Brookstone, Inc.
Brookstone, Inc. is an innovative product development and specialty lifestyle retail company that operates approximately 240 Brookstone branded stores nationwide and in Puerto Rico. Typically located in high-traffic regional shopping malls and airports, the stores feature unique and innovative consumer products. The Company also operates a Direct Marketing business that includes the Brookstone catalog and an e-commerce website at http://www.brookstone.com
About SmileCareClub
Founded in 2013, SmileCareClub is an invisible aligner system that allows patients to save 70 percent on the cost of treatment when compared to other aligner brands. The leader in teledentistry, SmileCareClub removes the need for monthly office visits by working with an expansive network of state-licensed dental professionals who provide ongoing remote treatment through cloud-based technology. SmileCareClub is a member of the American Academy of Cosmetic Dentistry.