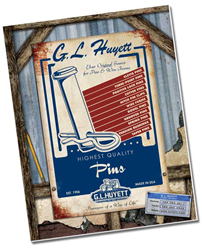 Minneapolis, KS (PRWEB) July 28, 2015
G.L. Huyett, a manufacturer, master distributor, and importer of non-threaded fasteners and grease fittings, released a new Pins and Wire Forms Catalog. The catalog features more than 14,000 individual pins and wire forms in over 100 product lines.
This catalog represents years of research and experience by G.L. Huyett staff. Along with informative and educational details about product lines and unique parts, it includes technical information to make it easy for a customer to order the part they need. Many of the products offered are available in imperial and metric sizes and can be purchased in ready-made or customized assortments.
"With the release of this catalog," the company's VP of Marketing, Greg Tabor, explains, "we wanted to provide a resource to the industry that includes design considerations, typical applications, mechanical properties of steel, and industry specifications for ASME, ASTM, SAE, and DIN standards. It is augmented by illustrations, technical drawings, and dimensional specifications for each part which can also be found on our website, http://www.huyett.com."
The new Pins and Wire Forms catalog makes it easy to find and buy parts that are often difficult to source or hard to manufacture—including clevis pins, three-point pins, positive lock pins, cotter pins, hitch pin clips, wire forms, dowel pins, groove pins, spring pins, tension bushings, and taper pins. Timothy O'Keeffe, G.L. Huyett's CEO, recognizes that "Some buyers are looking for smaller quantities than most manufacturers are willing to provide. We buy a broad range of parts in high volumes, then sell the buyer's desired quantity to satisfy JIT demands which prevents overstocked and unused parts."
O'Keefe continues, "While it may seem old-fashioned to print a catalog, our intent is to offer resources, and valuable technical and general use information to our customers in all forms of media. This catalog works hand-in-hand with our website to bring value to our customers."
Visit huyett.com/PinsCatalog to order a free copy today.
About G.L. Huyett:
Established in 1906 by Guy Huyett in the "other Minneapolis," the company is one of the oldest continuously operating businesses in Kansas. The company was founded on the production and distribution of machinery bushings. In the 1990's, entrepreneurial owners Tim and Carol O'Keeffe recognized huge potential in offering low order minimums, same-day shipping, and expanding product offerings to a complete inventory of pins, retaining rings, grease fittings and accessories, bushings, washers, shims, shaft collars, assortments, and tools.