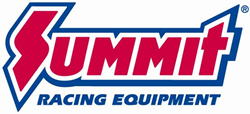 Tallmadge, OH (PRWEB) July 31, 2015
RideTech Suspension is transforming a tired 1972 Corvette into a fully equipped track monster. Summit Racing has created RideTech 48 Hour Corvette Parts Combos that make a great foundation for a road-race C3 Corvette. Enthusiasts can see the build video and learn more about the car here.
Engine and Drivetrain Combo
The heart of the 48 Hour Corvette is a Lingenfelter Performance 427 C.I.D. LS7 crate engine. RideTech added an MSD Atomic intake manifold and Blaster coil packs, a pair of Hooker Competition Darkside headers and motor mounts, and Magnaflow exhaust.
Differential Oil Cooler Combo
Gear oil in a Corvette's differential can get mighty hot under extended road race use. If the oil is cooked, the differential won't be far behind. RideTech's solution was a pair of Earl's Fluid Coolers and a Tilton oil cooler pump to circulate the gear oil and keep it cool under racing conditions.
Suspension and Brakes Combo
RideTech used one of its new Level 3 Suspension Handling Packages to improve the Corvette's ride and handling. The build team also upgraded to Baer four-wheel disc brakes with Hawk pads, added a Borgeson quick-ratio power steering box, and equipped the Vette with 315/30-18 Falken Azenis tires.
Fuel Injection Controller Combo
RideTech chose to control and tune the Corvette's EFI system with a Holley Dominator ECU. It allows tuning of fuel and spark for each individual cylinder for maximum efficiency and horsepower, has an internal data logger, and inputs for boost, nitrous, and more. Holley also supplied the necessary wiring harnesses and sensors.
Accessory Drive and A/C Combo
A C3 Corvette can get pretty hot, so Ridetech turned to Vintage Air for a complete climate control system based on a Gen IV Sure-Fit kit. Vintage Air also supplied a LS Front Runner accessory drive system that comes with a water pump, Sanden A/C compressor, 140 amp alternator, an ATI harmonic damper, brackets, and pulleys.
Electrical Combo
RideTech wired the Corvette with an American Autowire Highway 22 wiring harness to get the electrons where they had to go. An Optima RedTop battery provides the juice, an MSD DynaForce starter spins the LS7, and Cardone power window motors move the windows up and down.
Interior Combo
Sitting on milk crates while autocrossing was not an option. RideTech chose a pair of Kirkey Intermediate Layback aluminum seats to hold driver and passenger secure. Lokar provided many parts, including a drive-by-wire throttle pedal and module to interface with the Holley Dominator EFI controller's drive-by-wire throttle system.
Completer Combo
Every project needs a hodge-podge of parts and tools to complete the build. The 48 Hour Corvette was no exception. This combo includes DEI heat wrap and insulation, a Quick Trick alignment kit, a Mac's Engine Pivot Plate, and assorted Loctite adhesives, thread locker, and silicone.
Summit Racing Equipment
http://www.SummitRacing.com
1-800-230-3030