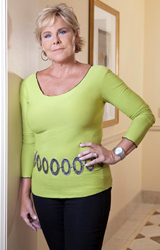 Jenny and her tireless team see the human being that has been brutally exploited, and set about to nourish her young soul back into health and possibility.
(PRWEB) July 29, 2015
Jenny teaches others to take courage and begin their own journey. She wants everyone to discover and fulfill their own water-walking, giant-slaying, history-making destiny. It will take courage, which simply means walking through our fears and conquering our self-doubt. Jenny's book provides tangible steps and direct resources needed to be and do all you were created for. This book will change the reader so they can change their world.
The website, equipped with Williamson's groundbreaking speaker video, can be found here http://jennytwilliamson.com/ . Those interested in learning more about Jenny and her cause can find vast amounts of insightful information on her new site. Those interested in having Jenny as a keynote speaker can book her through her speaker page on the site, as well as staying abreast of her frequent media appearances through her media page.
The launch of Williamson's website is met in tandem with her book launch earlier in 2015. 'Do You Have The Courage To Be You?' focuses on the story behind Williamson's journey to becoming one of the world's most prominent voices in fighting sexual slavery. As seen at http://jennytwilliamson.com/book-jenny/ , the book chronicles Williamson's personal journey of purpose which led her to vulnerable children being trafficked for sex and who have now become her daughters. Williamson believes each of us has a water-walking, giant-slaying, history-making destiny and that others are waiting for you to have the courage to be you.
Williamson says, "Before time began, you were imagined, planned, and created for a specific and unique purpose. There is something you were created to do and if you don't do it, it will never be done. It is urgent that you find the courage to be and do all you were created for. Someone is waiting for you to be you. Have you ever contemplated your particular purpose - the reason you are on this planet? Have you intentionally pursued your true identity and attempted to fulfill your destiny?"
At a corporate and professional level, Jenny promotes cultures of courage and unity, exhibits fearless leadership, singleness of purpose and enormous vision for the future. She is a maximizer and activator with a high level of passion, commitment and integrity. Jenny expounds a message of corporate responsibility to the community encouraging co-branding with non-profits for the purpose of changing the world, one individual at a time. She is the Founder and CEO of Courage Worldwide, an international, non-profit organization that is building homes for children rescued out of sex trafficking.
Jenny Williamson:
Jenny Williamson is the founder and CEO of Courage Worldwide and the author of Do You Have The Courage To Be You? published by Next Century Publishing. Courage Worldwide has opened homes for children who are victims of sex trafficking in Northern California, and Tanzania, Africa. She is an authority on the issue of child sex trafficking and the impact of this crime upon its victims. She is certified life coach and much sought after keynote and workshop speaker.
You can buy your copy of 'Do You Have The Courage To Be You?' from Amazon and Author Website